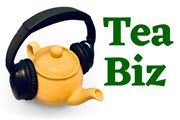 Hear the Headlines
| Ekaterra Tea CEO John Davison Gets Underway
| India Steps up Efforts to Halt Illegal Tea Imports
| Chinese Archaeologists Discover Oldest Tea Yet

Features
This week Tea Biz travels to Singapore for a conversation with John Davison, CEO of ekaterra tea, soon to be the largest tea company in the world. Ekaterra is currently a division of Unilever that houses 34 tea brands including Lipton, PG Tips, TAZO, Brooke Bond, Lyons, and Red Rose. In November CVC Capital Partners, a multi-billion private equity firm headquartered in Luxembourg, paid $5.1 billion for Ekaterra tea, outbidding several competitors and establishing a valuation based on 14x earnings before taxes and depreciation.
Ekaterra tea CEO Re-energizes World's Largest Tea Company
By Dan Bolton
John Davison joined Unilever in March 2021 to carve out the company's underperforming tea portfolio. Davison was formerly CEO at Zuellig Pharma, a $13 billion pharmaceutical distribution company employing 13,000 workers in 12 Asian countries. Davison, who is British, is a graduate of Cambridge University and Harvard Business School. He began his career with UK retailer Marks & Spencer before joining McKenzie & Co. in 1991. He was global head of strategy at Diageo in 1995 during the Guinness merger and a regional president at Danone for 11 years beginning in 2003. Davison, who lives in Singapore, will relocate to Europe after Christmas. Davison discusses the urgency of improving tea quality and adopting sustainable initiatives along the entire supply chain. Listen to his plans for re-energizing the world's largest tea company.  Read more…
Listen to the interview
News
India Steps up Efforts to Halt Illegal Tea Imports
By Dan Bolton
India's food safety and customs officials have stepped up inspections of tea imports targeting Nepal and citing complaints that large quantities of Himalayan grown tea are being illegally passed off as origin protected Darjeeling tea.
It is not clear how great a quantity is involved but CBIC is asking for proof of export license and sanitary and phytosanitary certificates after customs authorities discovered that only 23.4 million kilos of the 60.4 million kilos imported into India during the past three years for re-export had been re-exported. The Darjeeling Tea Association asserts most of this tea arrived from Nepal and was sold as if India produced it.
Growers describe a porous border that makes it possible for raw tea leaves to cross from Nepal. Unscrupulous factory owners can confidently process the leaf and pass it off as Darjeeling in the domestic market, reaping a significant difference in price. Tea vendors are in on the game, offering as little as 600 rupees [about US$8] per kilo to producers and then doubling the price for unsuspecting customers.
Larger quantities of bulk processed tea can also cross the border as a bilateral trade agreement waives tariffs and prevents arbitrary inspections that could be viewed as harassment.
 India is the largest market for Darjeeling with 5 to 6 million consumers. As India's premier growing region, Darjeeling has focused mainly on controlling overseas exports to protect its name and reputation for purity and taste. Joining us today is Sparsh Agarwal a fourth-generation Darjeeling grower at Selim Hill Tea Estate who articulates a domestic threat, which is the import of teas blended to dilute the Darjeeling brand.
Listen to the interview
Agarwal reports "The crux of the problem is that if you have spent any time in Darjeeling, you know that the border between Nepal and Darjeeling is super porous, right? So there's a large problem of green leaves being smuggled in and then being produced in Darjeeling tea factories. The second-degree problem is that tea shops are buying Nepal teas at a fraction of the price of Darjeeling teas. This is not the problem of the growers, to be honest, it's not the grower's fault that this is happening. Ultimately we will all have to go towards better, more established sourcing of teas using technology. We are looking into how technology like blockchain can be used to be able to improve these things. We are right now in advanced conversations with one particular company to be able to do better sourcing for our customers so that they know that this tea is not only coming from Salem Hill, it's coming from these sections within Selim Hill." 
Biz Insight – India is also aggressively challenging importers to monitor Kenyan tea, threatening to cancel their operating license for violating new rules that require labeling by origin. Kenya had hoped that India would establish a minimum import price, a solution endorsed by the Indian Tea Association. Instead, India stepped up inspections taking a closer look at quality and quantities to slow a recent surge of low-value teas.  Kenya shipped to India 2.8 million kilos of tea from January through June, up from 1.5 million kilos in the same period last year.
Chinese Archaeologists Discover the Oldest Tea Yet
Archaeologists extended the age of prepared teas to the early stages of the Warring States, circa 453 to 410 BC, a period 2,400 years ago, according to a report by the Xinhua News Agency.
The samples were discovered in tombs excavated in Shandong Province in the remains of a city built 2,800 years ago. [during the Spring and Autumn period (770-476 BC)]. Stem and leaf carbonized residues were found in an inverted porcelain bowl. Researchers led by Professor Wang Qing at Shandong University said the residue is likely dregs left by ancient people after boiling tea. Tests for theanine confirmed the substance as tea. The findings advance the age of prepared teas by more than 300 years in a study published in the Chinese-language Journal of Archaeology and Cultural Relics.  – Dan Bolton
Read more…

links indicate the article continues.

Learn more…

links to additional information from reliable outside sources.
India Tea Price Watch | Sale 47
Tea Biz caught up with tea exporter Pranav Bhansali of Bhansali and Company to review the Indian tea industry's past year. He said, "Quality teas have been selling at fantastic premiums for CTC and Orthodox teas, even at this late stage of the season. This is surprising, especially for CTC teas, since it is unusual to see the major packeteers and blenders being this aggressive and active on quality produce at this time of the year." Bhansali says, "Indian tea exports have taken a hit due to high CTC prices and weather disruptions." The Tea Board estimates a decline of 8-10% in calendar 2021 compared to the same period last year. "Supply chain disruptions and container shortages are expected to continue into 2022. On the bright side, Iran continues to be the largest consumer of Indian Orthodox teas," says Bhansali. Read more…
Aravinda Anantharaman introduces the two-part series Frugal Innovations with Abhijeet Hazarika and Indian tea growers Saurav Berlia and Shekib Ahmad who describe cost-efficient experiments and pilots that demonstrate why tea producers should embrace simple technologies with scalable impact. Listen to Episode 47 of the Tea Biz Podcast | Friday, Dec. 10
---
Upcoming Events
December 2021
Sips & Bites: Exploring the World of Artisanal Tea | December 15 | Virtual |
Director Dr. Katharine Burnett will share an overview of the Global Tea Initiative. Manik Jayakumar, Founder of QTrade Teas & Herbs, and Rona Tison, Executive Vice President of Corporate Relations at ITO EN, North America, will discuss their work in the tea industry and walk attendees through a tasting of their exquisite teas. The Global Tea Initiative (GTI) for the Study of Tea Culture and Science was established in 2015 to promote evidence-based knowledge about tea. | Register FREE (Zoom) | 6-7 pm PST | Sponsored by the Robert Mondavi Institute for Wine and Food Science, University of California, Davis.
---
Share this episode with your friends in tea.
---
---
Listen to Tea Biz on Apple Podcasts
---
Subscribe and receive Tea Biz weekly in your inbox.