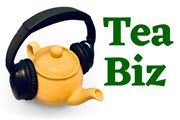 Hear the Headlines
| The Desirability of Sustainability
| Ekaterra Tea Pledges Net Zero Emissions by 2030
| Grocery Shoppers Say They Will Pay for Sustainable Food
| Inflation Demonstrates a Troubling Persistence
Features
Tea Biz this week travels to India where the traditional tea plantation model is under regulatory scrutiny. The union government there is redrafting legislation from the 1950s to gradually loosen regulations, abandoning requirements that previously limited who could grow tea and where it could be grown. In Part 1 of this extended Newsmaker Interview, Aravinda Anantharaman speaks with Tea Board of India Chairman Prabhat Bezboruah to better understand the current situation and the economic and societal forces driving change.
India Tea Reforms: Challenges and the Current Situation
By Aravinda Anantharaman
The Tea Board of India has been in the news recently for various reforms that seem to be underway. We spoke to Prabhat Bezboruah Chairman of the Tea Board of India to understand the changes that are brewing with the board as well as his views on how the Indian tea industry is faring this year. Bezboruah has been chairman since 2017. An alumnus of IIM Calcutta and the Wharton School of Business, he is the first tea planter to hold the position. Read more…
Listen to the interview (Part 1)
Next week, in Part 2 of India Reform: Tea Market Expansion, Prabhat Bezboruah discusses high-level talks on transferring regulatory oversight of India's Tea Industry from the Ministry of Commerce to the Ministry of Agriculture and Farmers Welfare.
News
Ekaterra Tea Pledges Net Zero Emissions by 2030 at COP26
By Dan Bolton
Ekaterra Tea, Unilever's newly-created division of legacy tea brands and the world's largest tea supplier, pledged this week to reduce carbon emissions to net-zero by 2030.
The division, led by CEO John Davison, announced sustainability and climate goals during a panel discussion with several NGOs deeply committed to the sustainability of the tea industry. During a press briefing on Nov. 8, Davison reiterated the company's commitment to 100% sustainably sourced teas, a switch to all plant-based tea bags, and recyclable, compostable, or reusable packaging by 2025 along with the adoption of regenerative agriculture practices for raw materials sourcing by 2030.
Davison said, "We want to give back to nature more than we take. To sustain is to reduce the drain on the planet's resources, which is a good start, but at ekaterra, we want to go beyond this. In the tea category, we have a unique opportunity to become climate positive through the regenerative power of plants."
Greenhouse gas emissions have been reduced by 66% since 2010, said Davison who promised a further reduction to 80% from the 2010 baseline. Ekaterra owns Lipton, PG Tips, TAZO, Brooke Bond, Lyons, Pukka, and Red Rose  —  the leading tea brands in 58 of the 110 countries where its portfolio of 34 products is sold. Ekaterra has a staff of 3,500 in 90 offices and employs 1 million people in 21 countries earning 2 billion Euros annually (about $2.3 billion in US dollars).
"Real leadership today, means mobilizing and transforming the entire tea industry for positive impact," said Davison.
The announcement benefitted from global attention on COP26 in Glasgow, Scotland where an unexpected climate agreement between the US and China added to the momentum for change. Delegates are negotiating an accelerated carbon emissions-cutting schedule and financial aid to developing countries. Scientists stressed the importance of keeping global temperatures within a 1.5 degrees Celsius target.
Copious amounts of tea were visible during the event. At one point, protestors dressed as caricatures of world leaders staged a tea party-themed performance where they were served "burnt Alaska" and "Arctic melt."
Biz Insight – There was a greater sense of urgency during the two-week summit. "Everyone knows what is at stake for the future, we have no choice but to rise to that challenge," COP26 President Alok Sharma told delegates. The UN's 26th Conference of the Parties, delayed by a year due to COVID, promises a renewed commitment to climate change in the most important response since the Paris Agreement. Learn more…
The Desirability of Sustainability
By Dan Bolton
Are grocery shoppers willing to compensate suppliers for the additional cost of producing goods that are good for the environment?
The answer is "Yes" according to a global panel of 86,000 consumers conducted by YouGov, a UK-based online market research firm.
"Sustainability – both in terms of production and consumption – is top of mind for many consumers globally," according to YouGov data journalist Hoang Nguyen.
As governments worldwide sign accords to battle climate change, reduce carbon emissions, and look after the planet's health, "consumers are also inclined to playing their part in helping preserve the environment and are willing to back their personal values with their spending dollars," according to YouGov.
YouGov's International FMCG/CPG Report 2021 compares shifts in consumer preferences and consumption patterns in 17 countries.
When queried on their willingness to pay more to address environmental concerns, only responses from persons identified as mainly or partly responsible for grocery shopping for their household (grocery shoppers) were tallied. Globally, three in five German grocery shoppers (60%) were willing to pay more to address environmental concerns. Next were US grocery shoppers at (58%), closely followed by UK grocery shoppers at 57%. More than half of grocery shoppers in Australia (53%) showed a similar inclination.
In Japan, feelings are mixed. Only three in ten grocery shoppers agree with the statement: "I don't mind paying more for products that are good for the environment." 42% of this audience neither agree nor disagree with the statement.
Biz Insight – The YouGov panel indicated that in the UK and the US, Gen Z and millennial grocery shoppers were far likelier than older age cohorts to say they would pay more for sustainable products. Learn more…
Inflation Demonstrates Troubling Persistence
Dismissed initially as "transitory" economists responded with concern this week as an increase in the US cost of living touched a 30-year high.
Inflation increased to 6.2% in October, growing at a pace not seen since 1990, according to the US Bureau of Labor Statistics. Inflation was more subdued in the European Union at 4.1% last month, up from 3.4% in September.
US food prices added far less to the overall cost of living than energy costs, for example, which rose by 30% in the past year but food inflation has spiked globally. Hunger and malnutrition are on the rise due to weather-related flooding and droughts and more expensive inputs. Bloomberg writes that a United Nations Index tracking staples rose 3% to a fresh decade high in October, threatening even higher grocery bills for households that have already been strained by the pandemic.
Tea is plentiful. Rising prices for bulk transactions are blamed on energy costs, shipping logistics, and expensive ground transport – not scarcity. The cost of labor climbed steeply in 2021 at both ends of the supply chain along with costs for manufacturing packaged goods (CPG). In the tea lands, worsening hunger is a concern as Africa and India experience multi-year highs. National governments and aid groups report the poorest families are struggling. The World Bank reports that global poverty had been declining before COVID-19. "As a result of long-term scarring, we estimate that by 2030, 588 million people could still live in extreme poverty, an additional 50 million people compared with pre-COVID-19 estimates."
– Dan Bolton
Read more…

links indicate the article continues.

Learn more…

links to additional information from reliable outside sources.
India Tea Price Watch | Sale 44
This week, the big news is the invitation to Indian tea companies to participate in Iraq's first tea festival. Iraq was a significant market for Indian tea until 2006, when the government of Iraq procured tea from India under the UN food for oil program. The import of tea was around 80 million kilos, with nearly half coming from India. Today, Sri Lanka is the major supplier to Iraq. The invitation from the Baghdad Chamber of Commerce comes as a boost at a time when Indian exports are struggling, even as competition from Kenya and Sri Lanka intensifies.
---
Upcoming Events
November 2021
Iraq Tea Festival | Nov. 28-29 | Baghdad Chamber of Commerce
Baghdad, Iraq |

Click to view more upcoming events.
---
Share this episode with your friends in tea.
---
---
Listen to Tea Biz on Apple Podcasts
---
Subscribe and receive Tea Biz weekly in your inbox.