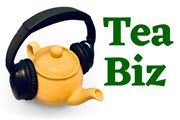 Hear the Headlines
| In the Black: Holiday Sales Surge
| CVC Capital Pays $5.1 Billion for Unilever's Tea Portfolio
| Weather Stations: A Climate Change Adaptation Essential for Tea

Features
This week Tea Biz travels to Brisbane, Australia where East Forged Tea co-founder Kym Cooper reminds us that innovation need not be at the expense of the timeless taste of tea. East Forged preserves that taste ? with no sugar, coloring, or artificial flavoring ? in a convenient, slightly fizzy, nitro-infused, cold-brewed iced tea that pours a craft-brew-like head of foam. 
… and then to Boston, Mass. to learn how Evy Chen, facing an 82% decline in foodservice sales of her signature cold-brewed tea, reformulated, rebranded, and relaunched online as a successful direct-to-consumer brand. 
A Fizzy, Foamy Innovation in Tea
By Dan Bolton
East Forged teas, launched in Australia in 2020, are nonalcoholic sparkling adult beverages cold-brewed for 12 hours from organic whole leaf green, black, and white teas and blended with low-sugar Calamansi, Pitaya, or Yuzu juice. Manufactured in a brewery and then canned, the teas get a burst of CO2 for fizz and nitrogen to add texture and a creamy head. The black tea tastes of citrus and is dry, not sweet, the Fujian-grown white tea is flavored with calamansi, a mild, wild citrus-hybrid from the Philippines ideal for social occasions. Read more…
Listen to the interview
---
Resilient & Resourceful
The tea industry globally demonstrated its ability to recover quickly during two years of disruption. Less is said about individuals who overcame pandemic-related obstacles and the resourcefulness of people that grow, process, and trade tea. To remedy that, Tea Biz is sharing stories of resilience, reinvention, pivots, and clever workarounds that exceeded expectations.
A Story of Reinvention
By Dan Bolton
In 2020 US restaurant and foodservice sales declined by $240 billion (22% for the year) placing unprecedented stress on food and beverage suppliers. In Boston, Evy's Tea founder Evy Chen watched as standing orders for her organic, sustainable, artisan cold-brewed bottled teas cease overnight. Revenue fell 82%. She persevered, observing that COVID lockdowns led to a surge in online transactions and altered long-established consumer buying habits. Within a year she had reformulated, rebranded, and relaunched online as a successful direct-to-consumer brand known as Evy. Read more…
News
CVC Capital Pays $5.1 Billion for Unilever Tea Portfolio
By Dan Bolton
CVC Capital Partners last week paid $5.1 billion to acquire legendary tea brands Lipton, PG Tips, Brooke Bond, Lyons, Bushells, and Red Rose as well as relative newcomers TAZO, T2, and Pukka Herbs culminating Unilever's corporate carve-out.
The portfolio of 34 brands was christened Ekaterra Tea following a year-long restructuring with the intent to either sell or separate the division from Unilever's core offerings. Ekaterra is now the world's largest tea company with approximately 10% global share and the leading tea brand in 58 markets. Unilever retained its tea business in India and Indonesia along with the PepsiCo-Lipton partnership headquartered in the US.
Ekaterra CEO John Davison welcomed the acquisition: "ekaterra is a strong business with positive momentum and has an exciting future ahead under the new ownership of CVC Fund VIII. We look forward to the next stage of our journey as the world's leading Tea business." Read more…
Biz Insight – Bold big-scale investments in tea companies are rare. Five years ago Unilever spent a combined $500 million acquiring retail chain T2 in 2013, completing the roll-up in 2017 when it bought the TAZO brand from Starbucks and Pukka Herbs. 
But these acquisitions were tactical and defensive, designed to stimulate revenue in light of a moribund black tea category by diversifying an aging stable of legacy brands from Lipton to Lyons. The $5.1 billion deal announced by Luxembourg-based CVC Capital this week is 10x greater, signaling an intent to revitalize and elevate the portfolio. Unilever spent the past year shaping a new corporate model for the large-scale production of sustainable tea but was unwilling to finance it. Ekaterra's vision could only be realized if the corporate carve-out attracted aggressive bidding. Fortunately, it did. Finalists CVC Capital, Carlyle, and Advent International each spent time and money evaluating the potential rewards for investors. The low bid of $4 billion demonstrates that independently they agree that Ekaterra is headed in the right direction. CVC's winning bid was 14 times (EBITDA), a measure of the portfolio's basic contribution to Unilever's earnings. All three bids embraced the complexity of re-imagining tea at scale. Insiders say CVC won the day with determination and grit. 
Ekaterra Tea CEO John Davison and Dan Bolton met virtually for an hour-long interview last week in which Davison discusses the urgency of adopting sustainable initiatives along the entire supply chain. Listen to his plans for the company in Episode 46 of the Tea Biz Podcast | Friday, Dec. 3
In the Black: Holiday Sales Surge
By Dan Bolton
Shoppers are exceeding expectations for the holidays.
Americans spent an estimated $5.1 billion on Thanksgiving Day and nearly twice that on Black Friday sales that extended through Sunday. Adobe's Digital Economy Index estimated total sales will reach $9.2 billion. Small business Saturday will net $4.5 billion. Toy sales are up 256%. Barclaycard Payments reported a 16.7% increase in volume compared to the same period on Cyber Monday 2020 and a 4.5% increase in payments compared to pre-pandemic levels.
US consumer spending online rose 20% in the first three weeks of November, according to the Adobe Index which predicts a record $207 billion in e-commerce sales this holiday season, up 10% compared to 2020. The US Census Bureau tallied $214.6 billion in third-quarter e-commerce sales, which now account for 13% of total US retail sales. The National Retail Federation projects holiday sales will increase 8.5% to 10.5% totaling $859 billion over the forecast period, compared to 2020.
Consumers appear to be heeding the advice to shop early. The Guardian reported a Deloitte survey that showed people spent 80% to 85% of their holiday gift budgets before Black Friday. Read more…
Weather Stations: A Climate Change Adaptation Essential to Tea
The Glasgow Climate Pact calls for doubling the developed world's investment in climate adaptations for poor nations.
Farm-level mitigation is underway as tea gardens dig ponds to capture rainwater and plant trees for shade but generalized weather forecasts focus on changes in average conditions and are of little help alerting growers to heatwaves and frost.
Africa has only one-eighth the minimum density of weather stations recommended by the World Meteorological Organization (WMO) leading to inaccurate forecasts and unreliable early-warning systems, according to the Washington Post. Kenya's government currently maintains only 22 rainfall stations in a country spanning 225,000 square miles.
As it turns out, the gardens themselves are repositories of great volumes of "hidden" weather data used by the University of Leeds to develop high-tech computer simulations capable of providing climate information that is both useful and usable for tea growers in Kenya and Malawi.
The Conversation explains that understanding what future conditions will be like is particularly important for tea growers because the tea plant has a long lifespan, of more than 80 years. "That means it is critical to take decisions now that will continue to be sound in the future, like replanting with better and resilient cultivars, planting shade trees and crop diversification," according to researchers.
The site-specific modeling establishes a temperature threshold specific to tea varieties. In Kenya's Rift Valley growers are alerted when projections show several consecutive days of temperatures exceeding 27 degrees Celsius. In Malawi, the threshold temperature is 35 degrees Celsius.
"Projections from a suite of 29 global climate models offer projections for the 2050s and 2080s," according to the Leeds University researchers.
Biz Insight – In January the Kenya Agricultural and Livestock Research Organization (KALRO) signed a two-year contract with aWhere of Denver, Colo. to monitor 6,787 virtual weather stations in Kenya that provide advanced weather data and analytics that support climate-smart agricultural decisions. aWhere maintains 1.7 million virtual weather stations worldwide according to CEO John Corbett, who writes that "Having accurate weather data and analytical tools to generate actionable insights for the food sector positions Kenya as a leader in climate adaptation."
– Dan Bolton
Read more…

links indicate the article continues.

Learn more…

links to additional information from reliable outside sources.
India Tea Price Watch | Sale 46
This week saw good quantities of tea on offer, with an all-India sale percentage at 80%. Prices were marginally higher than Sale 45. Kolkata saw good demand for all CTC, Orthodox, and Dust. Hindustan Unilever was active for CTC while the Middle East was active for Orthodox. The quantity of Darjeelings on offer this week was higher and prices were up marginally. In Assam prices remained largely the same as the previous week, however, they are better than corresponding 2019 prices. Analyst Abhijeet Hazarika @TeaSigma notes that high sales volume in the last two weeks with increased offerings has eased pressure on supply. Read more…
---
Upcoming Events
December 2021
World Tea & Coffee Expo | Gandhinagar, India | December 2-4
Launched in 2013 and now operated by Messe Muenchen India, this hybrid virtual and in-person event for tea and coffee professionals is now scheduled for the Helipad Exhibition Centre, Gandhinagar, Gujarat, India. Website | Register
Click to view more upcoming events.
---
Share this episode with your friends in tea.
---
---
Listen to Tea Biz on Apple Podcasts
---
Subscribe and receive Tea Biz weekly in your inbox.