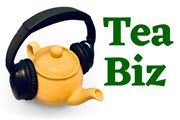 Hear the Headlines
| A New Theory on How Green Tea Promotes Longevity
| The Bubble Tea Business is Frothing Globally
| Assam Smallholder Collective Debuts Equifarm Tea Brand
Features
This week Tea Biz travels to Miami, Florida to the offices of SAMA Tea where CEO Michael Parisi uses artificial intelligence to create new functional blends. SAMA's CLAIRE platform is programmed to discover whitespace for new tea products, provide marketing insights based on consumer behavior. It even lists trending ingredients to consider in formulating the company's new line of adaptogenic teas…
Then we Zoom called two of the winners of the AVPA's 4th Teas of the World Contest, starting in Crete, Greece where Jessica Natale Woollard spoke to the family-owners of Tofillo Farms, gold medal winners in the botanicals category.
Then to Miaoli, Taiwan where Dan congratulates five-medal winner Rick Chang at the Xuejian plantation where he produces authentic bug-bitten Oriental Beauty oolong.
Delicious by Design
By Dan Bolton
SAMA is an adaptogenic tea brand made delicious by design, according to SAMA CEO Michael Parisi, co-founder of 100.co, an artificial intelligence-powered brand creation platform used to parse millions of retail data signals such as product reviews and consumer beverage trends. Applying insights gleaned from this vast reservoir led to the recent launch of four purpose-driven tea blends inspired by Ayurveda and crafted to help balance the mind, body, and heart. The teas are sold in samplers or by subscription. Parisi spoke with Tea Biz from SAMA's company headquarters in Miami, via Zoom.
Listen to the interview
Native Malotira Tea from Crete Wins Gold
By Jessica Natale Woollard
High in the White Mountains on the island of Crete grows malotira, an ancient herb with small yellow flowers used to make Cretan Mountain Tea. Rodo Vasilaki and her husband and business partner Nikos Psyllakis grow the herb on 30-acres of family-run farms that are dotted across the island. Their Malotira Tea, known locally as tsai tou vounou and by the Latin name Sideritis syriaca, won gourmet gold at the 4th AVPA Teas of The World contest. Another one of their teas, Pink Healer, featuring Cretan sage and pink rockrose, earned a "gourmet" distinction. Read more…
Listen to the interview
Taiwan High Mountain Oolongs Earn Multiple Gold Medals
By Dan Bolton
Miaoli is a city of 89,000 nestled in the mountains of western Taiwan. The region is home to the Hakka, an indigenous tribe employed in the cultivation of tea since the early 1900s. Gardens in the area are famous for producing Oriental Beauty, an oolong that depends on the bite of the tea leafhopper to develop its honey fragrance and honeysuckle taste. Rick Chang is director at Xue Jian, a tea plantation situated at 4,500 feet altitude that produces oolong and black tea. The company first competed in the AVPA contest 2018, winning a gold medal that year and at least once every year since. Read more…
Listen to the interview
News

A New Theory on How Green Tea Promotes Longevity
By Dan Bolton
Researchers at ETH Zürich have discovered that green tea catechins are not passive antioxidants but pro-oxidants that act to strengthen cells against attack by free radicals, leading to longer life and greater fitness.
Initially, the presence of green tea catechins increases oxidative stress for a short while which has the subsequent effect of strengthening the defensive capabilities of the cells and the organism, according to study leader Dr. Michael Ristow, professor for Energy Metabolism at the University's Department of Health Sciences and Technology.
"Catechins, aren't in fact antioxidants, but rather pro-oxidants that improve the organism's ability to defend itself, similar to a vaccination," said Ristow. "Green tea activates genes that produce certain enzymes such as superoxide dismutase (SOD) and catalase (CTL) that deactivate free radicals in nematodes, the test organisms chosen for the study," he explained.
The findings from the study translate well to humans, said Ristow. "The basic biochemical processes by which organisms neutralize oxygen free radicals are conserved in the evolution history and are present in everything from unicellular yeast to humans," he said.
His findings appear in the October issue of the peer-reviewed journal Aging.
Tian J, Geiss C, Zarse K, Madreiter- Sokolowski CT, Ristow M: Green tea catechins EGCG and ECG enhance the fitness and lifespan of Caenorhabditis elegans by complex I inhibition. Aging, 2021 Oct 4;13. doi: 10.18632/aging.203597call_made
Assam Smallholder Collective Launches National Tea Brand
By Roopak Goswami
Subsistence growers with generations of experience understand how to cultivate tea but are held back by their inability to process, package, and ship larger quantities. Few ever advance beyond the constraining role of supplying profit-driven bought leaf factories.
Grassroots Tea in New Delhi aggregates, repacks, wholesales, and retails authentic teas supplied by collectives and helps smallholders secure financing to establish Tea Producer Companies. TPCs then partner with the collectives to operate mini-factories that each process 2,500 kilos of green leaf to make 500 kilos of tea a day. Smallholders become producer stakeholders and ag entrepreneurs. Last week Grassroots debuted the equifarm brand on Amazon India. Equifarm teas range in price from $4.85 to $8.15 (INRs 605) for 250 grams. Unlike most smallholders — who receive perhaps a tenth of the retail price — growers supplying equifarm tea receive a far greater percentage of what consumers pay. This is because Grassroots Tea and lenders enable stakeholders to earn significantly more money by adding value close to origin. Read more…
The Bubble Tea Business is Frothing Globally
Manila-based Jollibee Foods Corp. this week acquired a majority stake, paying $12.8 million for one of Taiwan's largest bubble tea companies, the latest of many investments fueling the global expansion of the multi-billion segment.
The 250-location Milkshop International, founded in 2008, operates 231 units in Taiwan and the remainder in Singapore, Hong Kong, Melbourne, and Vancouver, Canada. Milkshop grew revenue by 12% compared to 2019 generating $75 million in sales in 2020.
Jollibee, which operates 5,853 outlets in 34 countries, announced that the investment "gives JFC the opportunity to participate in this fast-growing beverage category." Milkshop drinks are offered in three Jollibee locations.
Kung Fu Tea, founded in 2010 in Queens, New York operates 250 locations in the US. Gong Cha operates 1,400 stores including 36 North American locations. In September ChaTime, Taiwan's largest bubble tea brand with 1,200 locations in 50 countries, announced a major expansion in the US.
The global market, valued at $2.2 billion in 2019, is rebounding from an acute shortage of tapioca pearls that followed lockdowns in 2020. Fans worldwide adopted a self-imposed "one boba" per day limit during a period when Taiwan halted the water-intensive manufacturing of pearls to conserve water during a two-year drought. Taiwan manufacturers 90% of the world's favorite boba-sized black tapioca pearls.
Technavio estimates the global market will grow at a compound annual rate of 6.5%, adding $942 billion in sales by 2025. Fortune Business Insights predicts $3.9 billion in sales by 2027. Market leaders include Kung Fu Tea, Gong Cha, Chatime, ShareTea, and Coco Fresh.
Biz Insight – There are now 20,000 bubble tea outlets in the US and the drinks are sold at another 30,000 restaurants including Sonic and Dunkin. Jollibee operates 69 US stores. The US market for bubble was estimated at $240 million in 2020 and displaying every indication of continued growth. For example, San Francisco-based Boba Guys now manufacture their tapioca pearls in the US.
– Dan Bolton
In Memoriam
Peter G.W. Keen
Prof. Peter G. W. Keen, a brilliant educator, and author with a passion for tea passed Oct. 26. Keen was born in Singapore, educated at Oxford, and taught at Harvard, Stanford, and MIT. He published more than 30 scholarly books during his 79 years, including three books on tea along with many hundreds of magazine and online articles about his beloved brew. A celebration of life is planned for spring 2022.
Click to read his obituary.
Read more…

links indicate the article continues.

Learn more…

links to additional information from reliable outside sources.
India Tea Price Watch | Sale 43
In North India, Kolkata saw good demand for all tea types. Among buyers, the Middle East was active for orthodox tea while HUL and TCPL were active for CTC and dust. In Darjeeling, more broken and fannings found takers this week. Guwahati also saw good demand with major blenders active for both leaf and dust. Siliguri also saw good demand for tea, as it did the previous week. In the south, Coonoor saw good demand for CTC leaf with nearly 96% on offer sold. Cochin and Coimbatore saw better uptake for dust. Of the 692 kilos of green tea on offer at Coonoor, only 173 kilos sold at INRs 200 per kilo. Read more…
---
Upcoming Events
November 2021
HX: The Hotel Experience | Nov. 14-15 | New York City
Jacob Javits Convention Center | Agenda | Register
Click to view more upcoming events.
---
Share this episode with your friends in tea.
---
---
Listen to Tea Biz on Apple Podcasts
https://teabiz.sounder.fm/episode/news-01212021
---
Subscribe and receive Tea Biz weekly in your inbox.