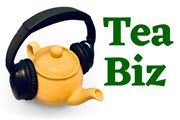 Hear the Headlines
| Afghan Tea Market Concerns as Taliban Conquers Kabul
| Foodservice Recovery Rates Vary Widely by Sector
| Researchers Confirm Heart Healthy Aspects of Tea
India Tea Price Watch
Afghanistan is an importer of green and orthodox black tea from India and in 2020-21, about 760,000 kilos of tea was exported from there. At the moment, the movement of cargo between the two countries stands interrupted. – Aravinda Anantharaman
Features
This week Tea Biz visits Darjeeling, India on word of the sale of the iconic Jungpana and Goomtee tea estates to Anshuman Kanoria, principal at Balaji Agro International and chairman of the Indian Exporters Association
… and then to London where Kyle Whittington reviews The Tea Girl of Hummingbird Lane, a novel by Lisa See.
Restoring Darjeeling's Reputation from the Roots Up
By Aravinda Anantharaman
The sale of two iconic Darjeeling tea gardens focused attention on the ongoing challenges facing growers in this fabled tea-growing region. Jungpana and Goomtee were acquired by the Santhosh Kanoria Group, which owns the tea export company Balaji Agro International. The group also owns Tindharia estate in Darjeeling. We spoke to Anshuman Kanoria, Chairman of Balaji Agro and Chairman of the Indian Exporters Association about this acquisition. Read more...
Listen to the Interview
The Tea Girl of Hummingbird Lane
By Kyle Whittington | TeaBookClub
New York Times best-selling author Lisa See has written several novels revealing her fondness for tea. The Tea Girl of Hummingbird Lane, however, uniquely explores the mysterious world of Pu'er. Reviewer Kyle Whittington writes that See's novel "consists of so many brilliant layers… for the tea reader this is a wonderful story, packed with great tea content that will either develop or ignite an interest in, and a desire to explore the world of Pu'er." Read the review…
Listen to the review
Afghan Tea Market Concerns as Taliban Conquers Kabul
By Dan Bolton
Afghanistan is a major tea-consuming nation and a smuggler's paradise for tea. The country became a profitable middleman by clever manipulation of border regulations that were only recently reined in after decades of openly flaunting Pakistani Customs enforcement.
Since tea trades in US dollars, money in Taliban controlled bank accounts is frozen. Bank withdrawals are limited and in-bound remittances from Western Union and MoneyGram have stopped. The East African Tea Trade Association (EATTA) reports bidding at the Mombasa auction on tea bound for Afghanistan slowed as the Taliban occupied Kabul but EATTA explained that Afghanistan gets its Kenyan tea via Pakistan where there have been no disruptions at all, according to The East African. Shipments between India, another major source of tea, and Afghanistan were halted this week.
Afghanistan's banks are closed, halting direct deposits for salaried workers. Interbank transfers are subject to sanctions imposed by western powers decades ago to curtail terrorist activity. The Financial Action Task Force, warned member countries they must ensure that "no funds or other assets are made available, directly or indirectly" to the Taliban or face fines and censure by the United Nations and the US along with many of its allies. During the 20 years since the Taliban was last in power, many businesses transitioned from cash and writing checks to digital banking. Prices for basic commodities like bread, oil, and tea have doubled since the government collapsed and the economy is in freefall.
In 2020 foreign aid from the US and Europe accounted for 43% of the economy. Remittances from Afghans living outside the country were nearly $800 million last year, according to the Wall Street Journal. Given near universal sanctions due to a global blacklisting of the nation's central bank, the Taliban will find it difficult to borrow or trade essential commodities, making taxes on citizens and local businesses the Taliban's sole source of funds in a $22 billion economy.
It is too soon to know how the collapse of the Afghan government and the return of the Taliban will alter the tea market, but smuggling was rampant during the 1996-2001 Taliban regime. In Helmand province, traders said that "if we smuggle 40kg (heroin), we give the Taliban 4kg."
Pakistan Customs lists black tea and green tea as two of the five most smuggled commodities. Tea exports to Pakistan surged in 2020, increasing 18.7% in value compared to 2019, making it the world's highest-valued tea import market at $590 million. Kenya accounted for $497 million of last year's import spend, growing 27% following a decision by the Indian government to no longer export tea to Pakistan.
Afghans prefer green tea to black, yet hundreds of thousands of kilos of black tea are landed annually at the Port of Karachi, Pakistan. Until recently Pakistan charged a combined 38% tax and duties on tea making the import cost of tea 32% higher than tea imported into Afghanistan. Afghanistan is a landlocked nation so huge quantities of African tea, mainly from Kenya, are delivered to the Pakistani port tax-free, taxed at a low rate at the Afghan border, and then transported to large warehouses where it is broken into retail packets and smuggled into Pakistan. Smugglers pay a 12%-15% bribe and transportation cost, pocketing the difference.
Biz Insight – Pakistan's Competition Commission considers smuggling to be "the biggest threat faced by the domestic tea industry, causing loss of millions of rupees to the government and forcing legal importers out of business," according to a 2019 report. A crackdown on violators in late 2020 led to a 55% increase in customs duties collected (a proxy for illegal trade) and evidence of a concerted effort by Pakistan to decrease the cost of legal imports, making smuggling unprofitable.
US Foodservice Recovery Rates Vary Widely by Sector
By Dan Bolton
Sales at Quick Service Restaurants (CSR) and the Supermarket Prepared Foods segment are well ahead of pre-pandemic totals but "everyone in foodservice is starting from a really different point," reports Ann Golladay, senior project director at Datassential Research's Baltimore office.
Datassential calculates that — overall — consumer spending in foodservice declined from $806.7 billion in 2019 to $701.4 billion in 2021 and will not return to pre-pandemic spending levels until 2023.
Golladay explained to webinar participants Aug. 19 that Fast Casual, once the darling of the industry with the largest real growth will not reach pre-pandemic spending levels before 2023 "and that will be nominal growth that does not include inflation," she said. Golladay estimates inflation at 5% per year "so you will probably have to back down these projections 10% by then," she said. Consumer spending at fast casual restaurants declined 19% in 2020. The segment is projected to generate $67.4 billion next year compared to almost $68.7 billion spent in 2019.
A survey of the nation's grocers found that 74% reported increased sales in 2020. The consumer spend for prepared foods at supermarkets in 2022 will be $38.8 billion, rising by 119% compared to 2019 dollars.
Recreation, lodging, and convenience store foodservice segments will take even longer to recover. Lodging, for example, will have only achieved 71% of its 2019 consumer spend by 2022.
Until workers return to downtown offices, the business and industry foodservice sector, projected to reach pre-pandemic sales of $6.9 billion, will never recover.
Tea Biz Insight – Jack Li, principal at Datassential identified five "x-factors" that could disrupt the official projections. These include new variants, vaccine mandates, additional and extended lockdown, sustained inflation, and a combination of labor and supply chain bottlenecks.
Researchers Confirm Heart Healthy Aspects of Tea
By Dan Bolton
Accumulating evidence of tea's heart health benefits led researchers to conduct an umbrella review describing and critically evaluating the totality of medical evidence to date.
Their findings: "It is reasonable to judge that two cups of unsweetened tea per day has the potential to decrease CVD (cardiovascular disease) risk and progression due to its flavonoid content."
The peer-reviewed paper authored by Abby Keller and Taylor Wallace and published in the Annals of Medicine, examines 10 years of studies, from 2010 to 2020, that identify several biological mechanisms showing a decreased risk and severity of cardiovascular disease in tea drinkers.
The authors write that "Results of population studies commonly suggest that tea consumption is inversely associated with several health outcomes. Shorter-term clinical intervention studies provide additional evidence that tea consumption has the potential to affect intermediate outcomes and biomarkers of disease in healthy, at-risk, and diseased populations."
Based on this umbrella review, the researchers observed that the consumption of tea as a beverage "did not seem to be harmful to health; therefore, the benefits of moderate consumption likely outweigh risk."
Miriam "Mim" Enck, president of The East Indies Coffee & Tea Company, in Lebanon, Penn., passed away Saturday, Aug. 14 after a short illness. Since 2018 Enck has operated the company founded by her late husband, Walter Progner who started the specialty tea retail business in 1976. She was 75.
---
Upcoming Events
August 2021
POSTPONED: Beijing International Tea Expo, Beijing China
August 27-30, 2021 | Beijing Exposition Center (the recent coronavirus outbreak forced Beijing authorities to halt all events that attract large crowds. Watch this space for new date when it becomes available.)
September 2021
Caffé Culture Show, Business Design Center, London
September 2-3 | The European Speciality Tea Association will host a Speciality Tea Hub on the exhibition floor with a tea brew bar, a members' lounge, educational seminars and small exhibitor pods. Admission is free | Program | Register
Level Up, Virtual
September 29 | The Tea & Herbal Association of Canada will host a mid-year meet up from 10 am to noon. Admission $55 (CAD) Members $50. Agenda | Register
Click to view more upcoming events.
---
Share this episode with your friends in tea.
---
---
https://teabiz.sounder.fm/episode/news-01212021
---
Subtext
Avoid the chaos of social media and start a conversation that matters. Subtext's message-based platform lets you privately ask meaningful questions of the tea experts, academics and Tea Biz journalists reporting from the tea lands. You see their responses via SMS texts which are sent direct to your phone. Visit our website and subscribe to Subtext to instantly connect with the most connected people in tea.
Subscribe and receive Tea Biz weekly in your inbox.