Listen to the Tea Biz Podcast on iTunes | Spotify | Sounder | Stitcher | Alexa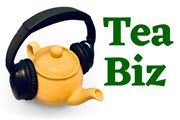 Features
May is tea month. The United Nations-designated International Tea Day is celebrated on May 21 this year and you can once again participate from the comfort of your home. The second virtual Sofa Summit is hosted by Shabnam Weber, president of the Tea & Herbals Association of Canada.
… and then we visit London where Kyle Whittington, founder of the Tea Book Club reviews The Story of Japanese Tea, a fascinating book by Tyas S?sen covering cultivation, manufacturing, history and culture.
SofaSummit Returns for Second Year
By Jessica Natale Woollard
The all-day SofaSummit begins at 8 am Eastern Standard Time (EST) on Friday, May 21. It is a lively virtual chat that introduces tea enthusiasts to dozens of tea experts, scholars, growers and tea professionals from around the globe. Initiated of necessity during the pandemic, the popular event is again hosted by the Tea & Herbal Association of Canada. Read more…
Climatic Swings, Now Too Dry, Now Too Wet, Threaten Assam
By Aravinda Anantharaman | Bengaluru, India
A drought was declared in Assam in April, a month that saw only four days of rain in north India's tea-growing regions.  Fewer rain days since January and a rainfall deficit of 205 millimeters compared to the long-term average, meant that tea bushes were badly hit. Raj Barooah discusses the erratic weather and what it has meant for tea production. Barooah's Aideobarie Tea Estate, located near Jorhat, consists of two farms with a combined 645 acres under tea. The estate produces 700 metric tons of CTC tea and artisanal whole leaf tea marketed under the Rujani Tea brand. Read more…
The Story of Japanese Tea
By Kyle Whittington | London
Whether you already love (and think you know) Japanese tea or are just getting into it, The Story of Japanese Tea is definitely a must read! Tyas S?sen takes us on a fully immersive look at Japanese tea through history, cultivation and production, customs and the different types of Japanese tea. As well as advice on preparing and drinking Japanese tea. From the traditional and historical right through to the bang up to date. This is a fully rounded and thorough book.
Tea News you Need to Know
Drought Eases in Assam
The Tocklai Tea Research Institute last week issued a special bulletin describing adverse growing conditions in western India. Rainfall is down by half and temperatures are "comparatively higher" than normal. There were only four days of rain in April. Rainfall since January is down 205 millimeters, "a substantial deficit compared to the long term normal," according to the 10-page bulletin. Temperatures averaged 1.6oC above norms.
Rains late in the week provide some relief to tea estates on the north bank from Tezpur to Gohpur while the Naharkatia Circle got only drizzle. Meteorologists predicted Meghalaya, Nagaland, Manipur, Mizoram, Assam, and Tripura will experience isolated very heavy falls.
The entire country recorded 31 mm rainfall during April — 21% less than its Long Period Average (LPA) of 39.3 mm — East and Northeast India collectively registered 64.2 mm precipitation, which is almost half of what these regions receive on average (124.8 mm) in the month of April, according to the Weather Channel.
Tocklai warns that these variations favor pests that prey on weakened bushes. "Severely affected bushes should not be plucked hard and allowed to recover with adequate rest," advises the report. Shortfalls could be as high as 20 to 25% in April and May compared to previous years. Production through March is down 39% compared to 2019 but ahead of last year, according to Tea Board of India statistics. Assam growers through March have produced 100 million kilos of tea.
The Economist Intelligence Unit writes that "prospects for India's 2021-22 harvest are relatively weak, with only a partial recovery likely following a 9.6% fall in tea output in 2020.
"We now expect a broad stagnation in output in 2021, ahead of partial recovery in 2022. Production levels are likely to remain below pre-pandemic levels, even in 2022," according to EIU's monthly Tea Forecast.
COVID Wave Sweeps Over Nepal, Bangladesh, and Sri Lanka
By Dan Bolton
COVID related deaths may double in the next month as the virus spreads to rural India, according to the Indian Institute of Science in Bangalore. Deaths, now at more than 230,000 could increase to 400,000 in June and rise to 1 million by the end of summer. Twenty-one million are currently ill. India has a case-per-million rate of 16,000.
Tests for COVID indicate positivity rates of 20% on average, rising to more than 40% in hard-hit regions. The World Health Organization advises governments to implement strict social distancing until rates fall below 5% for at least two weeks.
Attention has focused on the crisis in India but the spring wave has engulfed tea growing regions in Nepal, Sri Lanka, and Bangladesh.
Here is a brief rundown:
NEPAL
Nepal reported a 1,600% increase to 83,000 COVID infections during the week ending May 7. Army medical teams were mobilized this week to care for the ill as hospitals are overwhelmed. Only 1.2% of the population has received a vaccine, fewer still in rural tea growing regions. Nepal is experiencing 12,500 cases per million. Cases jumped from an average 298 per day in March to 9,000 in April. Deaths total 3,529.
Dry weather cut yields by half during Nepal's first flush. Buds did not appear until April, three weeks later than normal. Scarcity means raw green, organic-certified leaves, now earn farmers a guaranteed NRs100 per kilo, up from NRs40 rupees per kilo last year.
Export volume increased 65% to 9,700 metric tons in the nine months since July 2020. The price paid for exports set records in 2020 and prices are expected to remain high due to shortfalls in India which purchases 80% of Nepal's tea.
SRI LANKA
Cases increased by 20,000 last week to reach 120,000. Deaths are relatively low at 734 but the trend is troubling. Cases per one million are now 5,477. During the period April 2020 to October Sri Lanka reported at most two or three deaths per day. The seven-day average has since risen to 10. The country closed its borders to India last week.
The low rate of infection last year minimized disruptions to the harvest but logistics proved difficult for the island nation as virtually all the tea grown there is exported. Prime Minister Rajapaksa said that the government could not shut down the country because of the pandemic. The economic well-being of citizens was as important as fighting the virus, he said.
BANGLADESH
The country witnessed a sharp rise in infections in April when the seven-day average reached 7,000 infections and a record 102 deaths reported April 9. Lockdowns have since driven the seven-day average was 1,700 infections in May. Cases per million average 4,500 with 11,796 deaths.
In tea, COVID restraints forced a 10% drop in year-over-year tea production in 2020 but output was sufficient to meet domestic needs. Consumption declined 10-15% due to strictly enforced lockdowns that included closing restaurants and tea stalls. Dry weather has limited output since January.
Biz Insight – Tea growers in Kangra in Himachal Pradesh are experiencing great weather but unable to harvest. Production there is predicted to decline 70% to less than a million kilos because laborers who fled to their native villages during the winter have not returned. COVID fears are to blame.
In the past year 900 farms ceased harvesting tea as growers turn to more profitable crops. There are now 1,100 tea growers, down three quarters from the more than 5,000 in 2010. Acreage under tea is estimated at 5,600 acres (2,300 ha) down 60% (4,000 ha) from the 9,800 acres planted in the 1980s. The region produced 1.9 million kilos 20 years ago but will struggle to produce 800,000 kilos in 2021.
Emergency Relief Fund Nears Goal
A COVID-19 Emergency Relief Fund initiate by Vahdam India is nearing its goal with donations of 6.3 million rupees ($89,000) but needs an additional $20,000 boost to reach a 7.5 million rupees ($107,000) in five days. Donations to #RiseTogetherForIndia assist the non-profit Doctors for You deliver oxygen and relief services across India. Learn more and find a Ketto crowdfunding link to donate on the Tea Biz blog.
Are Tea Auctions Still Relevant?
By Aravinda Anantharaman | Bengaluru
Pranav Bhansali, managing partner at Bhansali and Company, tea traders since 1929, answers in the affirmative. Auctions continue to be very relevant and play an important role, he says. Currently 45% of tea sold in India is auctioned, vs 55% sold in private transactions.
Price discovery at India's regionally dispersed auctions is an accurate reflection of the dynamics of demand and supply, says Bhansali. Transitioning from out-cry to digital auctions was the right decision "and if it wasn't for the e-auctions, the tea industry would have come to a halt during the pandemic."
Two Major Grocery Chains to Carry Flash-Frozen Tea Leaves
By Dan Bolton
Major Grocery Chains Safeway and Sobeys with a combined 433 locations will stock Millennia Tea nationwide in Canada. Millennia washes and flash-freezes organic tea leaves for use as a culinary ingredient and in brewing tea. The result is a cup of fresh tea with greater concentration of tea compounds, according to company co-founder Tracy Bell.
The certified organic tea is available chopped; compressed into individual portions (tea cubes) or as two leaves and a bud. Recipe suggestions includes sauces, soups, and smoothies. Teas are sourced in Sri Lanka.
Bell writes that the traditional path to market for wellness brands is through health stores, "but as soon as the pandemic hit, the health industry stopped taking on new innovative products, and we needed to quickly re-think our business model."
A 10-store trial last summer, in Sobeys' "support local" program, led to placement in 30 locations, said Bell. "We were thrilled when they said yes to national distribution," she said. Millennia Tea is also available online and a few US locations. A stand-up pouch containing 120 grams of tea sells for $25.
Share this BLOG|CAST with your colleagues
---
View the Tea Biz Newsletter Archive
---
https://teabiz.sounder.fm/episode/news-01212021
---
Subtext
Avoid the chaos of social media and start a conversation that matters. Subtext's message-based platform lets you privately ask meaningful questions of the tea experts, academics and Tea Biz journalists reporting from the tea lands. You see their responses via SMS texts which are sent direct to your phone. Visit our website and subscribe to Subtext to instantly connect with the most connected people in tea.
Podcast Players
Download the Tea Biz Podcast weekly on your favorite player. To obtain a text-only version subscribe via RSS
Subscribe and receive Tea Biz weekly in your inbox.