Caption: Tea Forest in the Hawaiian sun near the village of Volcano. Courtesy Tea Hawaii/Eva Lee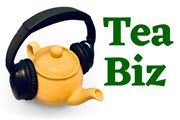 Hear the Headlines
| International Tea Day Celebrations
| Assam Forbids Tea Workers to Isolate at Home
| Nepal's First Flush is Delayed
| Kagoshima May Soon Outproduce Shizuoka
Features
Tea Biz this week travels to the slopes of the Kilauea Volcano where Tea Hawaii Founder Eva Lee describes the ongoing tea harvest as unusually wet and seven weeks later than normal.
…and then to Massachusetts to learn from author and historian Chitrita Banerji how a simple beverage transformed Indian culture.
Uniquely Hawaiian
Constant rains delayed Hawaii's first flush by several weeks
By Dan Bolton
Eva Lee is a pioneer of modern tea cultivation in Hawaii, establishing with her husband, Chiu Leong, a tea garden and nursery in the village of Volcano 20 years ago. The farm supplied growers with hearty cultivars first introduced in 2000 by researchers at the College of Tropical Agriculture and Human Resources. Hawaiian tea is grown on farms producing less than 100 kilos a year. Small amounts of premium tea are exported, but most is purchased by local restaurants and tourists. In this conversation, Lee describes how the "modest but very strong tea industry" adapted during a difficult year. Read more…
Tea is Both Cultural and Personal
By Aravinda Anantharaman | Bengaluru
Humans readily adapt to new foods and drink, most with little affect "we make them our own by accepting them and enjoying them" says distinguished food and culture author Chitrita Banerji. But some are transformative: "It's interesting that a foreign drink brought in by a foreign colonial power became such an important thing. We don't think of tea as a foreign drink anymore," she tells Aravinda Anantharaman during this International Tea Day interview.
Tea News you Need to Know
By Dan Bolton
Villagers have celebrated tea at local festivals that date to millennia. In the past hundred years, regional and national tea celebrations gained momentum — driven primarily by corporate marketers.
A decade ago, the idea of a global day of recognition with a different message took hold. Joydeep Phukan, who directs the Tocklai Tea Research Institute in Assam, was tasked by the FAO's Intergovernmental Group on Tea to convince the United Nations General Assembly to focus on producers, creating awareness and appreciation for the small growers responsible for most of the world's tea. That took five years.
Then the real work began. In 2019 when he learned of the General Assembly vote in favor of International Tea Day, Phukan challenged the industry: "Now that we have a dedicated day for tea, we need to do interesting things around the day to re-position tea as the most preferred beverage in the world."
Today you see that commitment passionately on display. There are virtual festivals, seminars, and academic presentations, an all-day SofaSummit to hear the voices of origin and the YouTube series "Around the World in 80 Teas" a marvelous virtual visit to the tea lands narrated by Will Battle and Dr. Sharon Hall, who directs the UK Tea & Infusions Association. The UN organized a presentation on sustainability and panel discussion. In Argentina, the Misiones tea growers are presenting a Spanish-language tea conference. In Sri Lanka the focus is marketing. In China the Ministry of Agriculture and Rural Affairs is hosting the Hangzhou International Tea Industry Expo, the largest face-to-face tea expo in China since the pandemic. If you love tea please promote and participate in these activities, either live or over the weekend since most are recorded.
Today is a glorious day, let's all share in the tea industry's ten-year overnight success.
Biz Insight – Tea Biz presents Behind the Headlines, a 15-minute YouTube presentation by Dan Bolton describing trends that shape today's news. Available in English and Spanish.
Assam Forbids Tea Workers to Isolate at Home
The situation has worsened in Assam to the point that workers who test COVID positive, many of whom are mothers and grandmothers, must quarantine outside their home until they recover. The practice is controversial but necessitated by the fact entire families have perished on the return of infected workers.
Assam Health Minister Keshab Mahanta announced that
"In the tea gardens, we have taken a tough stance on isolation of the positive patients. No one will be allowed to avail home isolation in the tea gardens."
Workers that do not require hospitalization must remain in COVID Care Centers where they are provided food and medicine. The vaccination rate remains low in part because many are unable to navigate the Co-WIN online registration system. Registration is mandatory for all those 18 years of age and older.
During the past year Assam counted fewer than 1000 deaths but there were more than 500 cases in Dibrugarh this week. There were more than 6000 cases reported May 19 and the seven day average is more than 5000. Deaths are approaching 2,500.
India recorded the highest COVID one day fatalities of any country this week. There are now 26 million active cases with almost 300,000 deaths officially recorded, a tally that is likely an undercount.
Biz Insight – There were 1,851 tea workers who tested positive on 229 tea gardens of Assam last week. There are now 214 COVID Care Centres in operating with more opening this week. There are 850 registered gardens in the state, any that are found to have 20 or more workers test positive are declared a containment zone.
Nepal First Flush Delayed
Tea growers in Nepal faced a formidable combination of wet weather, expensive fertilizer, high transport costs, a shortage of labor, infestations of leaf curl and black tip that led to declines of as much as 40% last year compared to 2019.
In 2021 drought is the big concern.
Harvest totals or the first flush are half that of 2020. New leaves did not sprout on schedule due to drought conditions that lasted from December until February. The Kathmandu Post writes that unlike last year, the price of CTC (cut, tear, curl) teas are 200 Nepal Rupees per kilo, well below highs of 360 Nepal rupees last year.
Nepal is also seeing a replay of last year's Covid-19 crisis. Nepal reported 9,198 new confirmed cases on Monday around 3000% increase from last month. The positivity rate is averaging 45% with 174 deaths per day in a country of around 30 million population.
Biz Insight – Nepal Tea founder Nishchal Banskota, who manages the family's Nepal tea garden remotely from New York, writes that "along with the health crisis, the small farmers in the agricultural sector face even longer term impact due to their crops getting wasted due to the lockdowns and lack of market access. The farmers that were just hoping to recoup the losses from last year's crisis are yet again faced with challenges to produce and sell their crops. The tea farmers find themselves in the same situation where they might not be able to harvest their most productive second flush due to the rise in the cases."
Learn more on the Tea Biz Blog.
Kagoshima May Soon Outproduce Shizuoka
Shizuoka, Japan's picturesque and most productive tea prefecture since 1959, may soon have to relinquish that title to Kagoshima, according to data released by Japan's Ministry of Agriculture, Forestry and Fisheries. Acreage under tea and green leaf output has slowly declined since the 1980s in Shizuoka which produced 25,200 metric tons of unprocessed tea leaves in 2019. The total is 34% of Japan's tea production. The 2019 crop was valued at ¥ 25.1 billion yen (about $230 million US dollars). Kagoshima growers, who harvested only 2,700 metric tons in 1959, by 2019 were recording ¥ 25.2 billion in sales. The prefecture harvested nearly the same amount of tea on 7,970 hectares, compared to Shizuoka's 13,700 hectares. The reason is that Kagoshima invested heavily in mechanized harvesting equipment now used on 97.5% of the prefecture's farms. Due to steeper slopes and smaller plots, only 65.8% of Shizuoka's tea is mechanically harvested.
Share this episode with your colleagues
---
---
https://teabiz.sounder.fm/episode/news-01212021
---
Subtext
Avoid the chaos of social media and start a conversation that matters. Subtext's message-based platform lets you privately ask meaningful questions of the tea experts, academics and Tea Biz journalists reporting from the tea lands. You see their responses via SMS texts which are sent direct to your phone. Visit our website and subscribe to Subtext to instantly connect with the most connected people in tea.
Subscribe and receive Tea Biz weekly in your inbox.