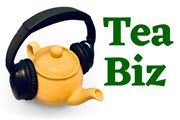 Hear the Headlines
| Pandemic Powers Organic Sales
| Tea Cafes Cautiously Re-opening
| Tata Expands Direct-to-Customer Range
| Buyers Spend Big at Chinese International Tea Expo
Features
Tea Biz this week travels to Japan where the Japan Tea Central Council and the Global Japanese Tea Association are organizing a Tea Marathon during the Tokyo Olympics so that enthusiasts worldwide can better appreciate the great variety of tea grown there
… and then onto Vancouver, British Columbia, where Jessica Woollard leads a virtual tour of Chinatown, a Canadian National Historic Site, and the location of the Treasure Green Tea Company and the Chinese Tea Shop ? two of the best places to find authentic Chinese tea
Japan Tea Marathon
Virtual tour of 15 tea producing regions tracks Tokyo Olympics
By Jessica Woollard
The Japan Tea Marathon is a series of live online events featuring teas from 15 of Japan's tea-producing regions. Zoom sessions begin July 23 and are held twice daily, concluding Aug. 8. Two hundred competing brewers and 1,000 regular admissions give the entire world of tea an opportunity to cheer their favorite to victory.
The Charm of Vancouver's Chinatown
By Jessica Natale Woollard
In 1981, Kwok Sun Cheung, an immigrant from Hong Kong, opened the first premium teashop in recent memory in Vancouver, British Columbia, on Canada's West Coast.
Catering primarily to immigrants from China, Mr. Cheung chose Vancouver's Chinatown for the location of his shop. Now a National Historic Site, Vancouver's Chinatown spans around six blocks and is located a short walk from Vancouver Harbour and the cauldron from the 2010 Winter Olympic games. It is the third-largest Chinatown in North America, after New York and San Francisco.
Today we are speaking with Olivia Chan, Mr. Cheung's daughter at the Treasure Green Tea Co. and with Daniel Liu, owner of The Chinese Tea Shop.
Tea News you Need to Know
Pandemic Powers Organic Sales
By Dan Bolton
The Organic Trade Association reports that US sales of organic food and beverages set a record in 2020, growing 12.4% to $62 billion. The total includes organic food, which grew by 12.8% to $56.4 billion. Import values for green tea also spiked, increasing 28% compared to 2019. Organically certified foods now account for almost 6% of total US food sales.
The pandemic caused consumer dollars to shift almost overnight from restaurants and carry-out to groceries, with traditional staples and pantry and freezer items flying off the shelves, according to OTA, "the only thing that constrained growth in the organic food sector was supply."
Tea Retailers are Cautiously Re-Opening
A tearoom in Texas, a tea café in Portland, and the Samovar Tea Lounge in San Francisco are now open for business. In Portland, the menu at the new Smith Teamaker Café features tea as a spice, an ingredient, and a beverage. In Montreal cafes with terraces opened May 28 and sit-down restrictions ended in Britain on June 2. Irish pubs, Dublin bars, and restaurants are open for outdoor dining on June 7. In Montreal the Café Myriade, Café Parvis, and Café Olimpico drew urban street crowds. Quaint tea rooms in small towns, like The Charleston Tea Room in Friendswood, Tex., a city of 39,000 near Houston, are seating guests after a year. Sadly, many did not survive the financial hardship caused by extended lockdowns. In many cases, these shops, like the one in Friendswood, will open with new owners. Möge Tee, a franchise bubble tea venture, will open two shops in New York City. Drive-thru HTeaO announced 11 new ice-tea franchise locations bringing its total to 41.
Biz Insight – Sit-down restrictions ended in Britain this week, check out the video linked above from the series Extraordinary Places To Eat by BBC Select. The setting is afternoon tea at century-old Bettys Harrogate, one of six tea rooms in Yorkshire, UK.
Tata Expands Direct-to-Consumer Range
Tata Consumer Products expanded its successful direct-to-consumer (DTC) range to include specialty coffee this week. The successful April launch of a DTC website featuring "1868 By Tata Tea" reinvigorated the 13-variety luxury tea selection, launched in January 2018 to commemorate the company's 150th anniversary. The teas are exclusively available online at www.tatatea1868.com
Tata's Puneet Das, president of packaged beverages for India and South Asia, said, "This is our entry into the direct to consumer commerce ecosystem which is a small but emerging space," adding that "1868 is an example of our continuing investment in our brands as we innovate to create quality and distinctive products for our consumers."
Teas in the 1868 collection are sold in premium tins organized by origin and type. The 1868 Darjeeling Rare Wonder is priced at INRs 1,500 (about $20) for 50 grams, the Nilgiri Green Twirl at INRs 500.
In February 2020 Tata reorganized how it brings its products to market, creating Tata Consumer Products, a Bengaluru-based integrated food, and beverage company that offers tea, coffee, bottled water, salt, pulses, spices, breakfast cereals, snacks, and ready-to-cook mixes.
Biz Insight – Tata's new DTC specialty coffee line is called Sonnets. It is sourced from the company's south India farms. India is mainly an instant coffee filter market, says Tata's Puneet Das who explains that Sonnets is targeted to QUOTE "a more discerning consumer looking for freshly ground roasted coffee delivered to their doorstep," he said, adding, "With the prolonged COVID-19 lockdowns, consumers are seeking more coffee drinking occasions at home. This is especially true as cafes and coffee shops have remained off bounds during the pandemic."
China International Tea Expo
Live tea expositions, seminars, and tradeshows are returning with vigor in China. The five-day China International Tea Expo (CTE) that opened in Hangzhou on International Tea Day (May 21) drew a crowd of 152,000 mainly domestic tea buyers. In aggregate they spent RMB6.4 billion purchasing 254 million tons of tea, a 14% increase compared to the previous event. The average value of transactions was up 20% to RMB223 million and orders topped 13,000.
CTE is the largest tea exposition in China. Buyers collectively spent RMB6.4 billion purchasing 254 million tons of tea, a 14% increase compared to the previous event. The average value of transactions was up 20% to RMB223 million and the number of on-site orders topped 13,000. In 2019 there were 10,787 transactions, suggesting pent-up demand.
The 2019 expo attracted 3,425 foreign buyers from 46 countries. In addition, there were nearly 200 foreign VIPs from 42 countries and international organizations. In 2021 only a few in-country foreign buyers attended as travel restrictions apply.
Biz Insight – China's borders remain closed to all but residents of these 23 countries. Travelers must provide proof of receiving a second of two shots at least 14 days prior to entry and they must present two negative tests PCR and antibody tests, taken within 48 hours of travel. Travelers are checked once again on arrival. Anyone failing the test will be isolated at a government facility. All others were quarantined for 14 days, often at home, an approved hotel, or a government facility. In some regions, the requirement is 14+7 (with the last seven days monitored by local community health officials). Entry restrictions are not likely to ease until February 2022 just before the Beijing Winter Olympics. The events are scheduled for February 4-20. Read more…
Share this episode with your colleagues
---
---
https://teabiz.sounder.fm/episode/news-01212021
---
Subscribe and receive Tea Biz weekly in your inbox.