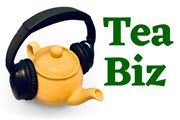 Hear the Headlines
| Darjeeling Experiences a Severe Downturn
| Researchers Discover Expanded Role for Microbes in Tea Making
| Oxfam India Defines Living Wage for Assam Tea Workers
This week, the focus is on declining tea exports from India, which is a cause of concern to the industry. The tea associations have issued a press release that the industry is bracing for a decline of 30-40 million kilos this year, compared to 2020. Read more…
Features
Tea Biz this week travels to South Africa to discuss with Carmién Tea founder Mientjie Mouton the beneficial aspects of the European Union's decision to register rooibos as the first African food product to receive protected designation of origin.
… and then to Scotland where Dananjaya Silva discusses with nine local tea growers how the short summers and cold winters of a far northern terroir contribute to the unique flavor of Scottish tea.
Rooibos Revived
By Dan Bolton
Carmién Rooibos Tea founder Mientjie Mouton explains the significance of the European Union's decision to award Protected Designation of Origin (PDO) to rooibos, a registration that attests to the authenticity and commercially guards traditional processing methods to protect suppliers in the region where unique products are grown. Read more…
Scottish Tea
By Dananjaya Silva | PMD Silva
Scots have a long history of growing Camelia sinensis in faraway lands ? from the jungles of Assam to the hills of Ceylon. A group of Scottish ladies have decided to follow in their ancestor's footsteps by banding together as the Tea Gardens of Scotland. I'm Dananjaya Silva from PMD David Silva & Sons, and today I sit down with Kate Elliot, Catherine Drummond-Herdman, Pinkie Methven, and Veronica Murray-Poore to talk about tea grown from seed on micro tea plantations in Perthshire, Fife, and Angus Scotland. Learn more…
Darjeeling Experiences a Severe Downturn
By Dan Bolton
The West Bengal tea community that surrounds Darjeeling is experiencing difficult times. Only 45 of the 87 tea gardens within the protected geographical origin are routinely auctioning tea. Production has declined from 16 million kilos 15 years ago to fewer than 7 million kilos in 2021.
Tourists are few. As COVID-19 infections decline elsewhere, the pandemic persists in the foothills of the Himalayas forcing travel restrictions. There were 1,500 active cases last week, with 88 new infections on July 8, a number greater than Kolkata recorded that same day.
In June, the Telegraph India reported that more than 10% of Darjeeling's tea gardens were up for sale but saw no buyers. Absenteeism, political turmoil, and climate change are often cited as reasons, but the main concern is the declining volume in production.
Rajah Banerjee, the heir to Makaibari Tea Estate, describes the situation with clarity and insight. "Darjeeling now faces a large-scale decline," he writes.  "Commercially, Darjeeling tea has been weathering a waning export market, explained by outdated management practices and exploitative middle-men. But there is a far more powerful factor at work now — the region's ecology was already facing deforestation, making the seismically sensitive area vulnerable to topsoil loss and land-slides. Pushing the tea gardens closer to the edge now, climate change is bearing down on tea yields, impacting the livelihoods of thousands in the industry.
"As emissions rise, intensifying global warming, changes in the melting of the Himalayan glaciers are causing temperature rises in Darjeeling — this has led to insect proliferation which damage the crop. Alongside, a lack of precipitation during dryer winters and unseasonal inundations during plucking seasons have drastically changed our harvesting window, reducing an eight-month harvest period to just six. Uniquely, Darjeeling is the world's only region that produces teas in four seasonal 'flushes' or harvests. While each has its distinctive flavor, color and aroma, the four flushes share one common thread — the regularity of the seasons themselves. Currently though, between prolonged droughts and unusual rain, tea growers are facing erratic and shrinking yields," he writes.
Tea Board data shows that in 2020, Darjeeling's production stood at 6.7 million kilos. This year, the second flush which makes up 20% of the annual production is seeing a reported decline of 200,000 to 300,000 kilos. April-May 2021 production stood at 1.22 million kilos (Source: Tea Board of India)
Biz Insight – News of gardens being sold has been recurring from this region. In 2020, the Singbulli and Nursing Tea Estates were sold. Okayti in June is the latest estate to be acquired. The 1600-acre high-altitude estate operates a factory that dates to 1888. The new owners are local and offer a hopeful vision of Darjeeling whose first concern is serving the domestic market. The estate was sold to Chai Chun, a unit of Siliguri-based Evergreen Group, a firm that operates Chai Rasa cafes and boutiques. Founder Rajeev Baid envisions a world-class tea academy to draw students of tea culture and tourists to an estate that produces organic tea using orthodox process as well as cut, tear, curl packet tea. The company processes 15 million kilos of tea across a broad range of 165 varieties supplying premium and bulk tea in quantities that benefit from scale.
Researchers Discover Expanded Role for Microbes in Tea Making
By Dan Bolton
The oxidation of tea leaves during orthodox processing is essential but not exclusively responsible for the flavor in tea.
The finding that bacterial and fungal communities also drive tea processing suggests the microbiome of the leaves can be manipulated to create greater quantities of tasty compounds due to fermentation.
A team of researchers at Anhui Agricultural University in China cleverly demonstrated that black teas, withered, rolled, and oxidized before drying are less flavorful when sterilized. Their paper, Black Tea Quality is Highly Affected during Processing by its Leaf Surface Microbiome, which was published in the June issue of the Journal of Agricultural and Food Chemistry, shows that microbial fermentation, present in non-sterilized control samples, produced tea with lots of catechins and L-theanine, an amino acid specific to tea. Tea made from the oxidized but sterile leaves was less flavorful and lacking in many of the complex compounds that tasters identify in premium teas.
The experiment showed that caffeine and theanine were found in the same quantities in green tea with or without leaf surface sterilization. "However, the sterilization process dramatically decreased the content of total catechins and theanine in black tea, indicating that microbes on the surface of tea leaf may be involved in maintaining the formation of these important metabolites during black tea processing," according to Prof. Ali Inayat Mallano.
Oxfam India Defines Living Wage for Assam Tea Workers
Oxfam India, a confederation of 20 independent charitable organizations, released a study last week that determined the minimum living wage for tea workers in Assam is INRs 887 rupees (about $12 per day). Workers make far less per day and are working fewer days due to COVID-19 restrictions. Only 39% of workers can be considered as permanent, the remaining 61% contract their services with fewer benefits. The study calculated a minimum of INRs 285 per day for food for a family of four and INRs 599 for non-food expenditures.
Biz Insight – The study of 5,000 tea workers in seven districts was conducted in October through December 2020. Oxfam CEO Amitabh Behar in appealing for improved wages described "a stark gap between the current wagers that tea workers receive vis a vis the living wages that has been calculated."
– Dan Bolton
Share this episode with your friends in tea.
---
---
https://teabiz.sounder.fm/episode/news-01212021
---
Subtext
Avoid the chaos of social media and start a conversation that matters. Subtext's message-based platform lets you privately ask meaningful questions of the tea experts, academics and Tea Biz journalists reporting from the tea lands. You see their responses via SMS texts which are sent direct to your phone. Visit our website and subscribe to Subtext to instantly connect with the most connected people in tea.
Subscribe and receive Tea Biz weekly in your inbox.