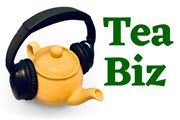 Hear the Headlines
| Retail Sales Forecast Happy Holidays
| Restaurant Reticence is Declining
| A Restructured DAVIDsTEA Expands into Pharmacies
India Tea Price Watch
India Tea Price Watch | Aravinda Anantharaman
The Indian Tea Association has asked the government to introduce a minimum import price for teas imported into India, to ensure they meet the requirements of the Food Safety and Standards Authority of India and to see that these teas are not sold in India as domestic tea. Learn more….
Features
This week Tea Biz travels to Guwahati in Assam, India where the co-founders of Folklore Tea discuss how they engage customers at an unusual level of intimacy.
Exceptionally Local Teas that Connect with Consumers
By Aravinda Anantharaman
A recent development in tea in India has been the rise of new brands, many that have their roots in tea regions. Almost all of them seek to bridge producers and consumers. Most rely on the narrative that accompanies a product from its place of origin. For consumers, it's in part vicarious living and a window to another world. Folklore Tea is as good as it gets for those who want to know who made their tea and where it comes from. Read more…
Listen to the Interview
News
Retail Forecasters Predict Happy Holidays
By Dan Bolton
Marketers anticipate strong holiday sales despite fewer footfalls at physical outlets due to surging sales online.
Projections range from $1.28 to $1.3 trillion during the November to January gifting season. Mastercard's SpendingPulse projects a 7.4% holiday sales increase, and the widely cited Deloitte annual holiday forecast estimates US holiday spending will grow between 7% and 9% in 2021. Ecommerce sales are anticipated to be between $210 and $218 billion, a gain of 11% to 15%, according to Deloitte.
Last year's holiday sales came in higher than expected, increasing by 5.8%, according to Deloitte. The consensus is that consumers have spent down debt and are eager to counter a gloomy summer that curtailed entertainment, dining out, and travel as COVID restrictions forced many to vacation close to home. In the US consumers have an estimated $1.5 trillion in extra savings to splurge, according to Bloomberg.
As restrictions lift, retail marketing group Shopper, in Australia, predicts consumers will embark on what has been coined as "revenge spending" sprees.
The publication AdNews writes that Australian households squirreled away more than $100 billion (AUD$140 billion) during the COVID pandemic, with 26% of Australians saying their families are better off financially than this time last year. Shopper's Urge to Splurge Post-Pandemic Revenge Spending Study, conducted in August, revealed that during the holidays:
47% of shoppers are planning on making a major purchase (a third indicated they would spend $500-$2000);
40% of Australians are looking forward to spending on dining out and entertainment and 19% will book holiday travel
35% say that now is a good time to buy major household items.
A consumer survey by AlexPartners found 88% of US consumers plan to spend the same or more this holiday season, up 12%, as reported by Chain Store Age. "There's unprecedented pent-up demand out there, consumers have lots of money in their pockets, in part due to recent government programs," according to the firm.
Countering that optimism is the fact that in September new COVID cases are averaging 145,000 a day in the US with more than 2000 deaths. Consumer confidence declined mid-summer during the latest wave of infections. Market research firm Numerator reported that in July and August consumers expressed big concerns over the Delta variant with 46% reporting they were "highly concerned" a number that grew 10% between July and August as hospitals filled. The majority (51%) cited the Delta variant with 66% of vaccinated adults expressing worries about family and friends becoming infected.
Vaccination mandates and more widespread use of masks are working to bring down case loads. California, a state with 39.5 million people that reported 65,000 cases a day last December, is now reporting fewer than 8,000 daily with an infection rate of 22 cases per 100,000. In contrast, Texas reported 44 cases per 100,000 the first week of September and Florida is experiencing 42 cases per 100,000.
Deloitte vice chairman Rod Sides, the company's US retail and distribution sector leader, writes that "While consumer concerns about health and safety have eased since the last holiday season, pandemic-influenced shopping behaviors continue to gain traction."
Biz Insight – The big question now is which channel will outperform? The majority of shoppers say they want to get out of the house and visit stores but that depends on local outbreaks. A big concern for online buyers is on-time delivery. Savvy tea retailers finalized preparations before September, borrowing in the spring to stock teaware and gift selections for the holidays. Manufacturing was in full swing across Asia all summer but shipping delays and the extraordinary spike in container charges make it imperative that holiday promotions begin early this year. MasterCard suggests Oct. 11 as a start date for a 75-day sales season. The president of international operations at UPS advises consumers to "Order your Christmas presents now because otherwise on Christmas day, there may just be a picture of something that's not coming until February or March."
Restaurant Reticence is Declining
By Dan Bolton
Frequent diners are determined to return to their normal routine of dining out.
OpenTable's most recent quarterly survey of 20,000 restaurant fans finds that 62% are now dining out at least once a week. During the first quarter, only 39% of frequent diners were eating out at least weekly. Takeout remains the most popular alternative to dining in with 34% of respondents ordering takeout at least once a week. In 2020 35% of all restaurant orders were from drive-throughs, according to NPD Group.
OpenTable reported a pronounced decline in July and August over concerns about the spread of the Delta variant. Seated dining at US restaurants is down about 11% below 2019 levels. In August the National Restaurant Association found that 60% of restaurant-goers had changed their use during the pandemic with most opting to eat outdoors and 19% saying they completely stopped going out to restaurants.
OpenTable found that 27% of Canadians intend on eating out more frequently than before the pandemic, citing a need to take a break from home cooking (40%) and support for local restaurants. Diners were more likely to have dined solo (33%) in 2020 and now eat earlier, making reservations for 5:30 and 6 pm.
Proof of vaccination should be a requirement for staff, according to 46% of OpenTable diners, up from 25% during the first quarter. A 71% majority are willing to show their vaccine cards and 23% say that restaurants must require proof of vaccination before they will dine indoors. In the San Francisco Bay Area 37% say proof of vaccination is a must.
Overall, 48% of frequent diners are willing to show proof of vaccination, but mandatory proof of vaccination isn't necessary for them to dine in. Nationally 15% of respondents say they will refuse to show proof of vaccination if required for dining-in. In Florida, Nevada, and Arizona 23% say they are unwilling to show proof of vaccination*.
Biz Insight – When asked what they miss, 93% of frequent diners cite dining at their favorite restaurant, another (42%) are longing for their favorite menu items with (39%) hoping to attend happy hours with friends and (26%) looking forward to wine and beer tastings.
*Footnote: San Francisco Bay Area: 37% say vaccination proof is a must, the highest of any region. In Canada: 34% say vaccination proof is a must. In Vegas, Orlando, and Phoenix: 23% say they're not willing to show vaccination cards, the highest of any region
Restructured DAVIDsTEA
Expands into Pharmacies
North America's largest tea retail chain has emerged from bankruptcy, named a new chairman to replace co-founder Hershel Segal and is now "moving forward with a number of initiatives," according to CEO and Chief Brand Officer Sarah Segal.
Jane Silverstone Segal, Herschel Segal's spouse, was named director and chair of the board on Sept. 14. Hershel remains a strategic advisor and retains 46% of the company's stock.
During an earnings webcast Sarah Segal said that DAVIDsTEA is "successfully transitioning to a digital-first company." The company is laying the groundwork for a successful omni-channel presence that retains key retail stores, a strong and growing online business and new emphasis on placing our products on the shelves of well-place retail partners, she said.
In a release following the quarterly disclosure, Sarah Segal announced the expansion of a store-within-a-store concept to 156 Rexall pharmacies. The four-foot in-store displays showcase 25 SKUs. The Montreal-based chain offers a mix of tea and herbal infusions at 18 stand-alone locations with 3,300 retail partners including Canada's major grocery outlets.
Sales declined 18.6% or $4.3 million to $18.7 million during the quarter ending July 31. Pandemic-driven sales were $23 million during the same period in 2020.
Biz Insight – During the earnings webcast, Sarah Segal said that "After a period of dramatic changes and transformation to our business over the past nearly 18 months, we are eager to connect with our customers in new ways." "We are laying the foundation to scale and expand to become a truly global tea company," she said.
— Dan Bolton
Read more…

links indicate the article continues.

Learn more…

links to additional information from sources.
---
Upcoming Events
September 2021
Level Up, Virtual
September 29 | The Tea & Herbal Association of Canada will host a mid-year Meet-Up from 10 am to noon. Admission $55 (CAD) Members $50. Agenda | Register
Click to view more upcoming events.
---
Share this episode with your friends in tea.
---
---
https://teabiz.sounder.fm/episode/news-01212021
---
Subtext
Avoid the chaos of social media and start a conversation that matters. Subtext's message-based platform lets you privately ask meaningful questions of the tea experts, academics and Tea Biz journalists reporting from the tea lands. You see their responses via SMS texts which are sent direct to your phone. Visit our website and subscribe to Subtext to instantly connect with the most connected people in tea.
Subscribe and receive Tea Biz weekly in your inbox.