---
Mozambique is the best-kept secret in the tea world, says Mohit Agarwal, Director of the Asian Tea Group, owners of Cha de Magoma, located in Gúruè, in Zambezia province. With 6,325 acres under tea, it is the world's largest bio-organic tea garden and its Monte Metilile brand is a success story that demonstrates the many advantages of scale in producing great-tasting, high-quality, clean teas.
Listen to the interview
---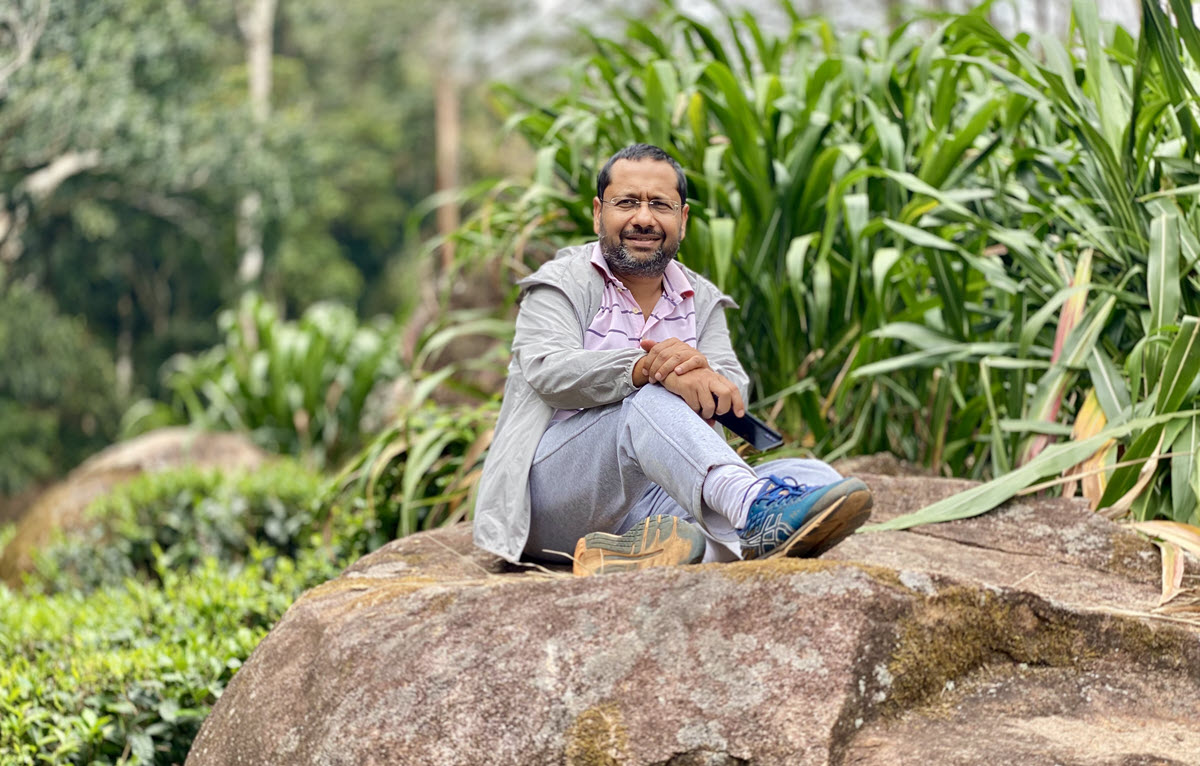 Organic Tea Production at Scale
Mohit Agarwal, Director of the Asian Tea Group, the company that owns Cha de Magoma and the Monte Metilile brand, is walking the world's largest certified organic garden as we speak via Zoom. Pointing to the brilliant green tea bushes that stretch as far as the eye can see he explains that during 15 years of civil war from 1977 until 1992 Mozambique's tea plantations were abandoned, allowing the land to rejuvenate and the bushes to expel plant protection chemicals and fertilizer. As our virtual tour continues, he describes the organic dairy herd, a forest of renewable eucalyptus used for fuel, and the three hydroelectric turbines being installed to provide green power for the plantation's factories.
Dan Bolton: Monte Metilile is certified organic by EU-Organic, USDA-NOP, and JAS. Here you specialize in the cultivation of organic whole leaf for orthodox processing as well as commercial grades of CTC. Will you talk about your commitment as stewards of the land and your regard for the ecosystem?
Mohit Agarwal: The natural ecosystem that we have here is ideally suited to operate any plantation without chemicals or fertilizers. We have a lot of green cover, we have 6,000 hectares of land out of which 2,560 hectares are under tea. Do you see those Eucalyptus forests over there? A lot of this land is under forest cover. A lot of land is under citronella and Guatemala [grass] which stops soil erosion, and gives nitrogen to the soil, and is used to create bio compost.
There's a total ban on any chemicals or fertilizer. We do totally sustainable agriculture. Even the food for our people grown in-house is organic. We have our own dairy farm with more than 100 head of cattle which gives us cow dung and cow urine as fertilizers. Butter and milk are used by families to make Ghee.
The entire ecosystem we built here at Monte Metilile is self-sustaining.
Dan: This is a large-scale operation with more than 6,300 acres under tea will you explain to listeners the advantages of scaling up if you're an organic farmer.
Mohit: The whole idea was to make organic tea affordable and available to the global audience. MRL levels and tolerance in most countries have become stringent. Converting this entire site of 2,560 hectares of tea into organic has taken a lot of hard work. We managed to make the entire 2.2 or 2.5 million kilos of tea we produce available to consumers globally at a very reasonable, affordable price.
Dan: What will consumers discover when buying Mozambique tea?
Mohit: There is flavor in the tea because of the climate. The temperatures in Mozambique are between 15 to 30 degrees. Because of the lower temperatures, there are inherent flavors. Most of our bushes are Chinery [Camellia sinensis-sinensis] out here, which the Portuguese planted.
We can produce orthodox black tea and green teas, and, within green, we produce both steamed and roasted, CTC, and Orthodox. We also produce oolong teas and some specialty teas such as white teas. The tasting notes for these are simply magnificent. In the winter months, during what we call the first flush, the teas are light-bodied, muscatel flavored teas. Once the season comes in, we'll get a little more body in the teas, but still, the brightness and the cups remain mellow.
Mozambique is the best-kept secret in the tea world. This growing region has been hidden for centuries. Teas from here blend very well with the Sri Lankans or the Indian teas. Consumers have not been exposed to Mozambique as the tea was only being used in blends in conventional teas. Now we are exposing the full bouquet and it's just delicious as a single-origin tea — fantastic for consumption without milk and sugar.
Cha de Magoma offers the largest organic selection anybody could find in the world.
— Dan Bolton
Cha de Magoma
The Asian Tea Group is a tea producing and trading conglomerate with plantations in Assam and Mozambique and trading offices in Kolkata, Coimbatore, Mombasa, Colombo, and Fuzhou (China). The group handles more than 27 million kilos of teas across all their offices worldwide.
Cha de Magoma is the largest private-sector employer in Mozambique, a country where labor is readily available as 70% of the workforce is employed in the agriculture sector which accounts for 25% of the economy. In 2020 Mozambique exported 3,203 metric tons of black tea, down from 3,447 MT sold in pre-pandemic 2019. The value of exports rose by 79% between 2017 and 2019, bringing exporters $4.7 million in sales, according to trade statistics compiled by Selina Wamucci. Mozambique ranks 62nd globally for black tea exports.
The plantation is certified by Fair Trade International as well as Fair Trade USA. Since certification in April 2020, workers have collected substantial fair trade premiums from customers, funds that have been invested in welfare projects. The FT premium committee, for example, purchased an ambulance which is critical to ensure that people get health care when required and improved plumbing to provide clean drinking water. The next big project is the construction of new buildings for a school to ensure access to education for the children, according to Avinash Gupta, Director of Global Sales at the Asian Tea Group.
Rainforest Alliance, Naturland, Non-GMO, and FSSC22000 certifications are a work in progress and are expected to be in place very soon, according to Gupta.
Monte Metilile teas are exported to Europe, the UK, the US, China, and Japan, writes Gupta. Our primary trading partner in the US is QTrade Teas & Herbs and in Europe Wollenhaupt Tee GmbH and Ludwig H.O. Schroeder & Rudolph Hamann oHG. Retailers that stock Monte Metilile includes TeaGschwendner (Germany), Nothing But Tea (UK), and Upton Tea (US).
In addition to tea, Cha de Magoma bottles natural spring water at a water packaging plant on the estate. The mineral water is marketed under the Monte Gúruè brand.
Resources
---
Listen to Tea Biz on Apple Podcasts.
---
Share this post with your colleagues.
---
Signup and receive Tea Biz weekly in your inbox.
---
https://feeds.sounder.fm/10363/rss.xml