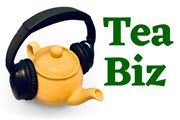 Hear the Headlines
| Delta Delivers Foodservice Setback
| Why are Tea Tariffs Still in Place?
| Tea Marathon is a Victory for Japanese Growers
Prices were similar to the previous week with the exception of Darjeeling which dropped significantly, marking the end of the summer flush. The week leading up to India's Independence Day was largely uneventful. Read more…
Features
This week Tea Biz visits Japan for a victory celebration of the Japanese Tea Marathon, an event during the Tokyo Olympics that drew attention worldwide to 15 tea producing regions in a country famous for quality green teas
… and then we travel to Paris, France as the deadline nears for the AVPA's annual Teas of the World contest, a unique global competition in a tea consuming country that focuses on the gastronomic pleasure and profits of tea.
Victory for Japanese Tea Marathon
By Jessica Natale Woollard
As athletes from around the world competed in the Tokyo 2020 Olympics, tea lovers participated in an event of their own: the Japanese Tea Marathon. The marathon included 15 days of online events that shone a spotlight on Japan's teas, producers, and the 15 tea-producing regions. Led by the Global Japanese Tea Association and Japan Tea Central Council, tea marathoners learned about 30 Japanese teas, how to brew them, and where they're grown. Kyle Whittington, a Tea Biz contributor and host of the TeaBookClub, attended every tea marathon event, tasting 30 teas over 15 sessions. He gives the event a gold medal! Read more…
Listen to the Interview
A Gastronomic Tea Competition
By Dan Bolton
The deadline to enter the AVPA's 4th annual Teas of the World Contest is Sept. 15. Our guest, Philippe Juglar is president of AVPA (Agency for the Valorization of Agricultural Products), a Paris-based, non-governmental, non-profit organization that judges wine, chocolate, coffee, and teas best suited to local preferences. He joins us to discuss what it takes to be a winner in the only "gastronomic" tea competition in a consumer country that evaluates tea solely to promote the good practices of production and trade. Read more…
Listen to the Interview
Delta Delivers Retail Setback
By Dan Bolton
Consumer spending declined in the US, China, and Europe in July. In the US infections from COVID Delta variant surged, reaching 140,000 new cases per day. Sales at restaurants, stores, and online declined 1.1% compared to June 2021, according to the US Commerce Department.
The impact on tea retail is uneven.
Revenue at restaurants and bars sales grew by 1.7% on average with much greater gains in regions where a high percentage of the population is vaccinated. In the US second quarter spending grew at an annual rate of 11.8% with total retail sales 17.5% higher than the pre-pandemic levels ? offering a glimpse of how much potential there is for a return to normal.
Economists now say the third quarter will dampen that outlook. Tea shops in downtown locations anticipating the September return of office workers will largely avoid lockdowns but can't meet expenses in high-rent locations. Meanwhile footfall in European and American malls declined. In China online sales growth slowed to 4.4% from an average 21% in July, confirming consumer hesitancy worldwide.
Biz Insight – Tea retailers occupying valuable real estate face tough choices. Jesse Jacobs, founder of well-respected Samovar Tea House Cafes, a local chain that reliably generated more than $3 million annually for years, was first forced to close its three locations, then hibernate. This week Jacobs and his brother Joshua announced that Samovar will pivot to serving Detroit-style pizza. Joyride Pizza will occupy the Valencia and Yerba Buena locations. In San Francisco where general retail rents average $40.54 per sq. ft. per year and restaurant retail costs $45-$75 per sq. ft., serving pizza is profitable.
Jacobs told Eater San Francisco, "I spent 20 years developing Samovar into an iconic brand. Similar to other restaurateurs across the country, COVID-19 dissolved the brick-and-mortar businesses to the point of no return. We needed to creatively adapt to the moment." Teas remain on the menu and www.samovarlife.com retains its luster as a premium online tea retail destination but without office workers, and with government bailouts exhausted and commercial landlords agitating for relief, tea retailers in downtown locations are unlikely to survive.
Why are Tea Tariffs Still in Place?
By Dan Bolton
Last week a consortium of 30 major business groups appealed to the US White House to remove tariffs on Chinese goods. Tea exports to the US declined after the imposition of tariffs (initially 15%, currently 7.5%). Tea imports fell to around $50 million in 2020, down from nearly $100 million traded in 2016. China's tea export volumes are down overall due to the pandemic, but with $2 billion in tea exports, China is clearly finding buyers globally. In June the average price of exported Chinese tea rose 2.54% to $6.86 per kilo.
The US has not won the trade wars it instigated. Certainly not in tea. US Treasury Secretary Janet Yellen recently admitted that tariffs on Chinese goods are hurting American consumers. The Biden administration is unwinding trade entanglements over aerospace and autos with the Europeans. Last week Chinese Ambassador Qin Gang told Craig Allen, president of the US-China Business Council that trade ties could recover, but first, the US must cancel unfair tariffs on Chinese goods. China has shown interest in hosting Yellen in talks with Chinese Vice Premier [Liu He] this fall. Eliminating the tariff on tea and reciprocating by easing Chinese tariffs on American goods imposed solely in retaliation is an important first step.
Tea Biz Insight – No one in the tea industry wanted the US to levy tariffs on tea. The 7.5% tariff is an unnecessary cost compounded by rising shipping and operating expenses. Miniscule import revenue makes the tea industry a pawn in this geopolitical chess match of billion-dollar multinationals that include Apple, Ford Motor, and IBM yet easing the restrictions on tea could play a symbolic role. In China's business culture conversations that begin with tea lead to agreements often far more influential than the US preference for confrontations in courts.
Upcoming Events
August 2021
POSTPONED: Beijing International Tea Expo, Beijing China
August 27-30, 2021 | Beijing Exposition Center (the recent coronavirus outbreak forced Beijing authorities to halt all events that attract large crowds. Watch this space for new date when it becomes available.)
September 2021
Caffé Culture Show, Business Design Center, London
September 2-3 | The European Speciality Tea Association will host a Speciality Tea Hub on the exhibition floor with a tea brew bar, a members' lounge, educational seminars and small exhibitor pods. Admission is free | Program | Register
Level Up, Virtual
September 29 | The Tea & Herbal Association of Canada will host a mid-year meet up from 10 am to noon. Admission $55 (CAD) Members $50. Agenda | Register
---
Share this episode with your friends in tea.
---
---
https://teabiz.sounder.fm/episode/news-01212021
---
Subtext
Avoid the chaos of social media and start a conversation that matters. Subtext's message-based platform lets you privately ask meaningful questions of the tea experts, academics and Tea Biz journalists reporting from the tea lands. You see their responses via SMS texts which are sent direct to your phone. Visit our website and subscribe to Subtext to instantly connect with the most connected people in tea.
Subscribe and receive Tea Biz weekly in your inbox.