SEATTLE, Wash. — Mixing tea ingredients is easy. Keeping them stable and evenly dispersed is not.
"Inclusions" is the technical description for the flower petals and bits of fruits and nuts, rind shavings, spices, tiny peppers and candy added to modern tea blends. Sales of these specialty teas are brisk with marketing that invites consumers to constantly try new formulations.
Color and texture are critical to the appeal of these teas. New recipes increasingly call for odd shaped bits of botanicals of varying densities that make consistency a challenge.
Take for example maple sugar flavored black tea, a hit here in the Great White North that eluded blenders for decades. On exiting a commercial "V" blender the mix seems well dispersed but the sugar quickly settles during the packaging process and in transit separates into a sticky dense layer of maple underlying tea with no maple taste.
Synchronizing combinations of precisely weighed ingredients during the bag-making process is a promising development by Epanie, a South Korean manufacturer of an innovative tea bagging machine. Motovotano, a Seattle firm founded by tea industry veteran James J. Mackness, is the first company to use the equipment in North America. The pyramid-style filling and bagging machine blends gourmet tea in real-time.
The pyramid has established itself as the go-to format for high quality blends. But large inclusions such as flower buds that delight the eye are difficult to apportion. Improvements in its design by Epanie over existing pyramid and traditional filter paper sachets allows for larger tea leaves and for those leaves to unfurl and brew properly for superior taste. Bags can be made of nylon, non-woven commercially compostable or certified biodegradable materials.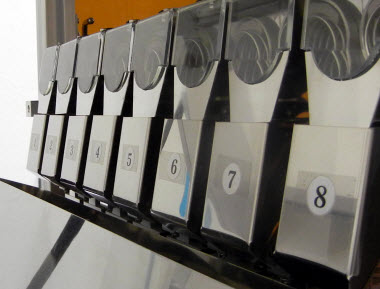 Motovotano's Epanie Pyramid Teabag machine utilizes eight servo-motor controlled weigh bins holding either a single inclusion or pre-blended mix that can be flavored. In a recent demonstration Mackness first blended several ingredients with similar density and volume in a traditional V blender. He then placed this mix in the Epanie machine along with several difficult to handle inclusions such as Calendula flowers and a spice with an intense flavor profile. A control panel instructed scales to tip the precise weight into each bag before it was sealed.
Click here for a video demonstration.
Mackness showed how the machine lets formulators cup on the fly. Pausing production to drop a bag into a hot cup of water instantly revealed the color and infusion time and most important, the flavor imparted by the inclusions. After a sip, using a touch-screen panel he then adjusted the scales in the individual bins to deliver slightly more (or slightly less) of one or more ingredients.
"Traditional tea bag production pulls from single batch blends, which does not produce as consistent or flavorful a product," said Mackness. "The Epanie delivers a consistent flavor profile and uniform appearance because each ingredient of the blend is apportioned by weight into the bag," he said. The 1200 pound machine will bag up to 85 pyramids per minute, each containing up to 20 grams of inclusions.
Mackness said the machine is ideal for artisan tea blenders.
Flying Bird Botanicals founder Scout Urling agrees. The small family-run business in Bellingham, Wash., has developed recipes based on ancient herbal knowledge and wisdom. Organic ingredients, many of which are large and odd-shaped, are sourced in the Pacific Northwest. "Our intent is to provide products of comfort, therapy and efficacy all while creating a delicious cup of tea," said Urling. "The new tea bags allow for the convenience of bags and the efficacy of loose tea," she said.
Motovotano promises to make the physics of blending tea less daunting and the process of creatively pairing tea and ingredients more fun. The company is seeking boutique teas, and restaurant, hospitality and grocery chains interested in private label product. Inland Packaging, Inc. is the manufacturer's exclusive representative. To learn more about blending tea in real-time visit www.motovotano.com or email: [email protected].