Listen to the Tea Biz Podcast on iTunes | Spotify | Sounder | Stitcher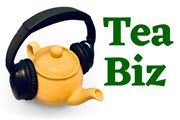 | First Flush Harvest Underway
| Introducing Weekly Tea Price Report
| Tea Relaxes Walls of Human Blood Vessels
| Celebrating the Green with Matcha

Click to read this week's in-depth Tea Price Report or listen to the Top Line summary below.
Features
A Story of Resilience on the 10th Anniversary of the T?hoku Quake
By Dan Bolton | Part 1 of 2
The devastation was near total in the hours following the March 11, 2011 T?hoku [tuh how koo] quake along Japan's northern coast. Four hundred and sixty five thousand people were displaced by a gigantic surge that spawned 40 meter waves towering 133 feet – higher than a 12 story building – in some inlets. The toll in lives exceeded 18,000 and the 40 trillion yen in damage that day makes the 9.0 quake the costliest natural disaster in human history.
The following winter was harsh as many sheltered in temporary lodging or with relatives housed beyond the 200 square miles of inundated coastal land.
Five hundred miles south of the destruction, Yasuharu Matsumoto, vice president of the Kyoto Obubu Tea Farms, called for volunteers to travel north on a mission motivated by kindness.
Ten months after the tsunami the flotsam and rubble remained, with buses and boats precariously balanced on roof tops of multi-story buildings.
Learn more and see photos from the adventure.
Listen to the story of the Tea Relief Caravan.
Listen next week as Tea Biz returns to Japan for a story of renewal at the Kitaha Tea Farm in Ishinomaki, Miyagi and interviews with suppliers on the challenges of marketing tea a decade after the Fukushima Daiichi meltdown.
Women's Rights in Tea
By Aravinda Anantharaman
"In recognition of International Women's Day, Tea Biz spoke with Sabita Banerji and Krishanti Dharmaraj from THIRST, The International Roundtable for Sustainable Tea. Sabita was born and raised in the tea gardens in Assam and Munnar. She is an economic justice advisor and the founder and CEO of THIRST. Krishanti Dharmaraj is a THIRST trustee and Executive Director of the Center for Women's Global Leadership in New York and co-founder of WILD for Human Rights (Women's Institute for Leadership Development).
In conversation these women say that no one in the tea industry intentionally abuses human rights but inequality is deeply embedded – requiring systemic change.
"Tea workers are trapped in a 19th century system that creates poverty and suffering," says Banerji. "You can't just break it down overnight and destroy the well being and the ability for communities and individuals to live," adds Dharmaraj. "I think this is where the collective power of the government, the industry and the workers needs to come together," she said.

Read more
News you Need to Know
First Flush Harvest Underway
Droves of COVID-19 wary pluckers are working gardens in China, Sri Lanka, and India amid favorable weather after a dry winter. The Darjeeling first flush is underway. Consumer demand for premium tea increased during the pandemic and pricing is firm, but there is uncertainty throughout the entire supply chain as to when newly processed tea will reach market. Waiting time for obtaining container space on a ship is now 3-10 weeks at rates 50-200% higher than mid-year. Wholesalers are raising shipping minimums and pricing significant increases due to shipping. Retailers that absorbed some of the financial shock of 2020 project steep increases. Fewer aircraft are flying with many aircraft diverted to vaccine delivery. Consider the $38.25 cost of sending a three-kilo parcel from Darjeeling to Paris or London, or the $39.60 cost to reach New York. A major Canadian supplier notified customers to expect an increase in its free freight threshold from $1200 to $1350 (CAD).
Biz Insight – Price volatility is a concern which is why Tea Biz is launching the weekly Tea Price Report. The podcast news segment reports auction averages and prices for specific types of tea. The report draws on many sources including tea boards, traders, and the China Tea Marketing Association which provides a benchmark for the 10 teas most commonly exported.
Save this permalink to hear the latest prices anytime on your phone. https://tea-biz.com/tea-price-report
Need greater detail and insights?
View an in-depth report with commentary here.
Tea Relaxes the Walls of Human Blood Vessels
Compounds in both green and black tea result in significant vasodilation of blood vessels in the human body, according to medical researchers whose work was published in the journal Cellular Physiology and Biochemistry. The findings could lead to the design of new blood-pressure lowering medications. Researchers at the University of Copenhagen and the University of California, Irvine, found that tea catechins activate a protein found in the smooth muscle that lines blood vessels. The catechins cause potassium ions to exit cells, reducing cellular "excitability." Researchers note that tea has long been known to reduce blood pressure. Understanding the precise mechanism could be helpful in reducing hypertension the number one risk factor for global cardiovascular disease and death. Heart attacks claim the lives of 17.9 million people annually, according to the World Health Organization.
Celebrating the Green
Relevant brands are pervasively innovative. Consider the collaboration announced this week between Hershey's Chocolate Syrup and Kung Fu Tea….
Then there's matcha. Eight hundred years ago the practice of grinding tea leaves into powder was already centuries old, but Japanese growers near Kyoto advanced the craft by improving the quality of tencha. The result was emerald matcha. Globally matcha is projected to maintain steady growth of 4.6% through 2026 more than double the rate of tea overall. This is due, in part, to the versatility of matcha which is used in many baked dishes, confectionary, ice cream, smoothies, and juice drinks. The monks who created matcha would probably not recognize the Shamrock Tea introduced by Starbucks for St. Patrick's Day, but they would surely taste the matcha in this blend of a green tea latte made with coconut milk with a splash of lemonade and two scoops of vanilla bean powder.
Biz Insight – Starbucks, one of the biggest tea retailers in the world, announced this week it will no longer sweeten its iced tea. Customers can add as much cane sugar as they like at no additional charge, but unsweetened is the new default, making tea a zero calorie menu option.
Link to share this post with your colleagues
---
Tea Biz Episode 8 Mail Chimp Newsletter Link
Subscribe to the Tea Biz newsletter and view archive
---
https://teabiz.sounder.fm/episode/news-01212021
---
Subtext
Avoid the chaos of social media and start a conversation that matters. Subtext's message-based platform lets you privately ask meaningful questions of the tea experts, academics and Tea Biz journalists reporting from the tea lands. You see their responses via SMS texts which are sent direct to your phone. Visit our website and subscribe to Subtext to instantly connect with the most connected people in tea.
Podcast Players
Download the Tea Biz Podcast weekly on your favorite player. To obtain a text-only version subscribe via RSS
Subscribe and receive Tea Biz weekly in your inbox.