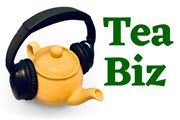 Hear the Headlines
| Inflation Dampens Enthusiasm Over Rising Tea Prices
| India's Tea Industry Under Duress
| European Union Grants Rooibos GI Protection
While lockdowns continue, tea auctions in India resumed last week at all the major centers. In the Nilgiris, discussions on whether bought leaf factories can open are still underway.
Read more…
Features
Tea Biz this week travels to Frankfurt Germany to discuss best practices in sustainable wholesale with Jan Holzapfel, owner of Ronnefeldt Tea, a 198-year-old company that is replacing its tea packaging this year with eco-friendly materials, embracing traceability, and reducing emissions by longer air freighting tea.
… and then to London where Tea Biz Reviewer Kyle Whittington has a single word for INFUSED, a book by Rare Tea Founder Henrietta Lovell that describes her adventures in tea: "Wow," he writes, "You really feel like you are sitting over a cup of tea with Henrietta as she regales you with her stories, the highs, the lows, and the off on a tangent."
Sustainable Wholesale
Sustainable best practices at tea gardens are well established, but the rest of the supply chain offers significant opportunities to protect and conserve resources. Listen to the latest Tea Biz Newsmaker Q|A as Jan-Berend Holzapfel, owner of Germany's Ronnefeldt Tea, discusses sustainable wholesale.
A Book to Re-ignite your Tea Flame
You really feel like you are sitting over a cup of tea with Henrietta
By Kyle Whittington | Tea Book Club
Wow! What a book! From start to finish Henrietta had me captivated, excited and enthralled by her world. A Tea Book unlike most, this is the very personal story of Henrietta's adventures with tea in tea and all around tea. From her first fledgling sips out of dainty China Cups at Diana's House as a child, we are taken along on a ride of reminiscence. With trips to far flung tea fields swathed in mist via the odd lightning strike or two we zip off to tea tastings with chefs at some of the best restaurants in the world, accompanied by her little yellow suitcase and strange meetings on trains. To name to mention but a few of her adventures.
Food Inflation Dampens Enthusiasm Over Rising Tea Prices
By Dan Bolton
In the US and Asia, an energetic post-pandemic recovery is underway. Demand is quickly rebounding as consumers spend down their savings and make up for the lost time. Consumers in the largest economies amassed $2.9 trillion in savings since March 2020, according to Bloomberg Economics.
Now they are eager to spend.
Retail sales in the US are projected to approach $4.5 trillion in 2021, according to the National Retail Federation. The NRF, which initially estimated 6.5% growth, increased its full-year GDP projection to 7%, the fastest rate in decades. In China, household income grew 13.7% during the first quarter of 2021.
Widespread inflation is dampening that good news.
The Organization for Economic Cooperation and Development (OECD) reports inflation in member countries is at the highest level since 2008. Globally, food prices rose for the 12th consecutive month in May, according to the United Nations Food and Agricultural Organization. The FAO's Food Price Index was 40% higher in May 2021 when compared to May 2020. The Bloomberg Commodity Spot Index, which tracks price changes across a range of metals and agricultural commodities, has jumped roughly 60% in the past 12 months.
Food prices, including the cost of tea, are rising on demand. Tata Consumer Products, Nestlé and Unilever all announced price increases across their ranges in response to commodity inflation.
EU Grants Rooibos GI Protection
The European Union this week awarded Rooibos, which is also known as Red Bush tea, status as a protected geographic indication affording the same protection to products such as champagne and Irish Whiskey.
The registration allows South Africa's Rooibos industry to display the EU Seal if the tea consists of 100% Rooibos that is either cultivated or wild-harvested from local municipalities of the Western and North Cape provinces.
The South African Rooibos Council welcomed the news. Council Chairperson Marin Bergh said that while it is important that nobody else use the name Rooibos "it also gives a certain status about quality, reliability, and sustainability – all those things that go together with a GI."
India's Tea Industry Under Duress
While the peak of the horrific second wave has passed, India's tea industry remains under duress as the coronavirus simultaneously strikes down workers, limits plucking and processing, halts inter-district transport, and forces the early-day closure of restaurants and beverage stalls.
The government estimates more than one million workers, mainly women, are losing productive days and wages due to the pandemic and inclement weather with the arriving monsoons.
The delivery of 235,000 doses of vaccine this week halted a steep increase in Coronavirus caseloads in Assam's tea gardens. Daily average infections in June are now 4,000 per week, down from almost 6,000 per week in May. Positivity rates remain high, forcing an extension through June 16 of lockdowns and a daily curfew from 1 pm through 5 am. Shops and restaurants must close by noon and inter-district transport is prohibited. The state reported 450,000 cases and 3,600 deaths. The seven-day average for new cases is 7,400 in West Bengal and 9,000 in Kerala.
India reported fewer than 100,000 cases for a fifth day and while daily death totals are high at 4,000, this average is expected to decline as the drop in new cases continues. During the peak of the spring infections, from April 1 to May 6, India recorded 926,000 news with a positivity test of 26%. Testing continues at the same pace, but positivity has declined to an average 4%. Active cases are now at 1 million, according to the Union Health Ministry.
Buyers at auction are finding it difficult to arrange for transport despite the fact tea is listed as an essential commodity. Drivers are in short supply and enforcement of restrictions that prohibit inter-district transport is inconsistent. The immediate impact is a spike in retail prices above records set in 2020. Buyers at auction are spending an average of INRs211 per kilogram in Assam and INRs125 per kilo in Tamil Nadu.
Biz Insight – There is no slack in demand for tea. Tata Consumer Products reports that revenue from its beverage segment (which includes coffee) grew by 59.6% during the period January-March 2021. Volume was up 23% largely due to an increase in at-home consumption. India's packaged tea market is estimated at $2.26 billion. An additional $1.3 billion is spent on tea from unbranded suppliers, according to ICICI Securities.
Share this episode with your friends in tea.
---
---
https://teabiz.sounder.fm/episode/news-01212021
---
Subtext
Avoid the chaos of social media and start a conversation that matters. Subtext's message-based platform lets you privately ask meaningful questions of the tea experts, academics and Tea Biz journalists reporting from the tea lands. You see their responses via SMS texts which are sent direct to your phone. Visit our website and subscribe to Subtext to instantly connect with the most connected people in tea.
Subscribe and receive Tea Biz weekly in your inbox.