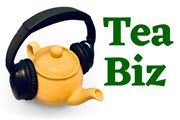 Hear the Headlines
| Sri Lanka's Clean Tea Ambitions
| COVID's Toll on Tea Garden Workers
| Tea Day Auction Yields Record Prices
| Nayuki's Lucrative IPO
The worst of the pandemic's second wave seems to be behind India as the number of cases have come down in many parts of the country, and lockdown restrictions are slowly being lifted. The focus now turns to production and prices across auction centres. Read more…
Features
Tea Biz this week travels to Boulder, Colo. where Maria Uspenski, founder of The Tea Spot explains the relationship of beneficial adaptogens and tea…
…and then to Milwaukee, Wis., where Jeff Champeau, vice president of business development at Rishi Tea & Botanicals, explains that marketing seasonality is a great way to introduce craft-brewed tea into our lives.
Adaptogens and Tea
By Marilyn Zink | Herbal Collective Magazine
Our guest this week is Maria Uspenski, a cancer survivor, and author of Cancer Hates Tea. In 2004 Maria founded The Tea Spot, a tea wholesaler and teaware design company in Boulder, Colo. Read more…
Healthful Effervescence
By Dan Bolton
Tea is on a trajectory akin to small-batch, craft-brewed beer where carefully selected ingredients are individually prepared to showcase their best characteristics. Recipes emphasize balance, with efficacy and taste foremost. Excellence in blending and brewing preserves high concentrations of polyphenols and other beneficial plant compounds with minimum calories, nothing artificial, the convenience of cans – and the fun of fizz. Read more…
Sri Lanka's Clean Tea Ambitions
By Dan Bolton
The Sri Lankan government's ban on chemical fertilizers including nitrogen, phosphorus, and potassium urea pellets, in favor of organic fertilizers is generating vigorous debate as the tea industry weighs methods for increasing yield.
Jayampathy Molligoda, chairman of the Sri Lanka Tea Board, attributes the gradual decline in productivity in Sri Lanka's tea gardens to continuous application of chemical fertilizer. In a 2,500-word article titled "Sustainable Solution to the Decline in Tea Production, Export Revenue and Livelihood" Molligoda advocates a "radical shift in our perceptions, our thinking, and our values." He writes that the only viable solutions are those that are sustainable.
His views are in sync with business leaders in Sri Lanka from many industry sectors, who are advocating a "green normal" in which companies collaborate to protect nature. One such coalition, known as Biodiversity Sri Lanka (BSL), is at the heart of building "truly sustainable economies and livelihoods."
Molligoda's challenge is science as critics point to the myriad difficulties of switching from a compact, precisely applied plant food to a bulky and much more expensive alternate. Organic fertilizers are limited in their capacity to deliver nitrogen (12%) compared to chemical fertilizers (46%) and the price can be 50 times greater per kilo than synthetics that sell for less than $1 per kilo.
Sri Lanka's growers can produce enough fertilizer for 100,000 hectares and the nation's 27 licensed domestic organic fertilizer manufacturers can provide enough fertilizer for 224,000 hectares. The country will have to import sufficient fertilizer essential for 500,000 hectares of paddy land and 600,000 hectares of other crops, including tea, according to a report in Economy Next.
BSL is chaired by Dilmah Tea CEO Dilhan Fernando who writes that, "beyond the pandemic, we all face a threat that could literally suffocate, starve and extinguish humanity. The measures we must take now to assure our health, food security, and survival must be universal, science-based, innovative, and definite."
Biz Insight – The prize for Sri Lanka are teas that not only reflect the island nation's extraordinary terroir but demonstrate in laboratory tests a level of purity no other tea producing country has achieved. In short, Sri Lanka will grow the cleanest teas in the world.
COVID's Toll on India's Tea Gardens
Last year the coronavirus pandemic plunged India's economy into a recession for the first time in nearly a quarter of a century. Tea production, tea exports, and tea retail all suffered, but rural workers were largely spared the high death counts experienced in the nation's crowded cities.
That is no longer the case as the COVID-19 second wave crests. The tea industry employs 3.5 million workers who reside in small homes and who rely on crowded vans for transport, resulting in much higher rates of infection than in 2020. Currently more than half of the 800 tea gardens in Assam and 300 of the registered gardens in West Bengal report active cases. Confirmation in a single tea estate of 20 or more cases results in the designation of containment zones. There are now 3,000 active cases among tea workers in Assam, but deaths of tea workers are rare at 102. Kerala reported 331 deaths of tea workers with 11 in Tamil Nadu. On June 15 West Bengal reported 4,371 active cases and 84 deaths.
The rate of infection has dropped significantly since May, but vaccine hesitancy remains 'rampant.' Fewer than 100,000 tea workers in Assam have received their first shot with only 6,000 getting the required booster so far. Globally only 10% of the world's population had been vaccinated as of June. Read more…
Tea Day e-Marketplace Auction Yields Record Prices
Selections of Indian tea harvested on May 21, International Tea Day, sold at record prices this week on a cloud-based digital marketplace launched at the height of the pandemic.
The auction was conducted by mjunction, India's largest B2B e-commerce platform.
A whole leaf tea from Pabhojan Tea Estate sold for INRs 4000 (about $54 per kilo US) with a specialty green from Diroibam earning a winning bid of INRs 1000 (about $13.50 per kilo US). More than 93% of the teas on offer were sold.
Additional tea estates with lots sold includ Lankashi, Aideobari, Muktabari, Rungliting, Narayanpur Panbarry, Durgapur, Tirual, and Kathonibari.
Since June 2020 the marketplace's 300 registered users have traded 1.3 million kilos of tea. Read more…
Nayuki's Lucrative IPO
China's fresh-fruit, bubble, and foam-cheese tea chain Nayuki debuted with a $656 million valuation this week on the Hong Kong stock exchange. Shares of the initial public offering traded at nearly $20 and were 190 times oversubscribed. Husband Zhao Lin and wife Peng Lin opened their first store in Shenzhen in 2014. Each is now a billionaire based on their holdings.
The company operates 500 locations in China with 300 more planned in 2021 and 350 in 2022. International locations include Japan and the US. The IPO debuted before a planned IPO by cross-town rival Hey Tea, a larger venture with 450 Chinese locations that has also established a foothold in the US.
Share this episode with your friends in tea.
---
---
https://teabiz.sounder.fm/episode/news-01212021
---
Subtext
Avoid the chaos of social media and start a conversation that matters. Subtext's message-based platform lets you privately ask meaningful questions of the tea experts, academics and Tea Biz journalists reporting from the tea lands. You see their responses via SMS texts which are sent direct to your phone. Visit our website and subscribe to Subtext to instantly connect with the most connected people in tea.
Subscribe and receive Tea Biz weekly in your inbox.