Listen to the Tea Biz Podcast on iTunes | Spotify | Sounder | Stitcher | Alexa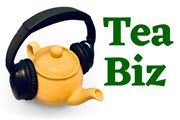 | A Sparkling Future for Fizzy Tea
| Bubble Tea Drinkers Froth Over Drinking Straw Ban
| Vahdam Tea Partners with Goodricke Group
| Starbucks Introduces Rent-a-Cup

Click to read this week's in-depth Q|A with ITA Secretary Sujit Patra or listen to the India Price Watch summary below. Click here to read the China Tea Price Watch.
Features
This week Tea Biz visits the Nilgiri tea growing region in South India where Managing Director Supriya Sahu has harnessed the creative and collective energy of 30,000 small farmers at the INDCOSERVE tea farmer's co-operative.
…and we discuss the challenges of timely tea delivery in the new harvest year with Jason Walker, spokesperson for Firsd Tea, the US division of the largest green tea supplier in the world.
Awakening a Sleeping Giant
By Aravinda Anantharaman
A money-losing federation of small grower co-operatives in Tamil Nadu, the largest of its kind in India with a history dating to 1965, languished for decades before Supriya Sahu emerged as a leader with a singular message: produce tea that builds the lives of farmers and a better future. "That's our ambition, to transform an organization that was a sleeping giant into one that can show the world that a small growers' organization can be the best among the best," she says. Read more…
Finally Under Way
By Dan Bolton
New harvest tea is on its way. Early harvests in China, India, and Kenya sent new teas to market early this year – a fortunate head-start. Unlike last year, labor availability is good despite COVID-19 restraints, tea regions report fine weather, and orderly processing is raising expectations of a bountiful crop. In this segment Jason Walker, spokesperson for Firsd Tea, the US division of the largest green tea supplier in the world, discusses two remaining challenges impeding timely tea delivery. Read more…
Tea News you Need to Know
A Sparkling Future for Fizzy Tea
Actor Brad Pitt is all fired up about fizzy tea. Specifically, small batch, cold-brewed, certified organic sparkling tea launched by Enroot in five flavors. Pitt invested in the 25-calorie, botanically diverse bottled blends of teas, herbs, fruits, and spices inspired by co-founder Cristina Patwa's grandmother in the Philippines.
Marketed as wellness tonics that relax, re-energize, revitalize, rejuvenate, and revive… the teas are made without sweeteners or artificial flavors and bottled in plastic-free packaging.
Enroot co-founders Cristina Patwa and Brad Pitt.
Sparkling teas are a small volume niche that grew nearly 10% each year from 2017 to 2021, according to 360 Market Updates. The category has matured in the past 15 years to include high-end, gourmet non-alcohol versions by Copenhagen Sparkling Tea sold at the legendary Fortnum & Mason in London and soon-to-launch innovations like Nomad Tea Soda, a concentrate from Maya Tea for bartenders and fans of SodaStream — an at-home carbonation appliance.
Biz Insight – Retail sales of ready-to-drink tea in the US totaled $7.9 billion in 2019, according to Beverage Digest. Volume has steadily increased for the past seven years to 860 million, 192-oz. cases. Sales globally are estimated to reach $25.6 billion in 2021 rising to $29.7 billion in 2024, according to market researchers MRFR, making RTD the most lucrative segment in tea. Carbonated beverages of all types this year will generate an estimated $255 billion in sales with RTD now contributing about 10% of global revenue.
See: A Sparkling Tea Suited to Fine Dining
and, A Sparkling Future for Fuzzy Tea
.
Bubble Tea Drinkers are Frothing Over a Drinking Straw Ban
In 2020 China adopted several policies to make the Earth a better place, one of which is a ban on plastic straws in restaurants. The well-intentioned directive, however, drew the ire of bubble tea lovers forced to slurp tapioca balls through soggy paper straws. Alternatives include re-usable metal, glass, and bamboo but bubble lovers complain it's just not the same. Plant-based plastics made of corn or sugar cane are emerging as an acceptable compromise. PLA decomposes into carbon dioxide and water and China's king of straws now uses PLA exclusively. Milk tea chain HEYTEA which operates 450 stores in 35 cities made the switch to more expensive PLA. Said one satisfied customer, "We welcome the green shift, but not at the expense of spoiling our experience."
Biz Insight – April 22 is Earth Day. This year's theme is Restore the Earth, a concern shared globally. In China plastic bags and plastic cutlery are next on the list to be phased out. Xinhua news service reports that by 2025, China's degradable plastics market will grow to 35.8 billion yuan (about $5.5 billion US), according to analysts at Huaxi Securities.
Vahdam Tea Partners with Goodricke
Direct-to-consumer e-commerce retailer Vahdam Tea and garden owner Goodricke Group announced they are teaming up to distribute single-estate teas from the well-known Castleton, Margaret's Hope and Thurbo estates in Darjeeling and Assam estates Harmutty, Borpatra and Dejoo. Vahdam founder Bala Sarda said the relationship goes beyond procurement. Goodricke CEO Atul Asthana said he is delighted to partner with a dynamic and fast-growth new-age startup that has successfully created an Indian home-grown brand in more than 100 international markets.
Biz Insight – Vahdam, founded in 2015, reports annual turnover of $21.5 million to achieve profitability with growth of 110% in the past year. The company has expanded its distribution network to include many tea related products. Value-addition is done at origin and direct delivery eliminates much of the cost and delay of multiple supply chain handoffs. Sarda has been adept at securing outside financing to grow the company he started at 23 years of age. Vahdam earns 99% of its sales of 200 SKUs outside India. The company formally launched in India last year and has witnessed strong early growth, according to a company spokesperson.
Starbucks Introduces Rent-a-Cup
Take-away tea drinkers experiencing remorse after beverage retailers refused to fill reusable cups last year will be pleased to learn that Starbucks is launching a "borrow-a-cup" option. The trial at five Seattle area stores allows customers to order their drinks in a reusable cup with a $1 deposit.
When they return the cups at a contactless kiosk at the store or from home using the Ridwell closed-loop service they get their dollar back and 10 rewards points through the chain's loyalty program.
Ridwell professionally cleans and sterilizes the cups, replenishing stores. Studies show that circulating a single reusable cup replaces up to 30 disposable cups. The reusable is then recycled.
Biz Insight – Americans discard 120 billion disposable cups a year, according to the Clean Water Action Fund. Plastic coatings that line hot cups often prevent them from being recycled. Starbucks has publicly committed to a circular economy that recovers and repurposes waste, pledging to reduce by 50% the billions of pounds of waste generated annually.
Copy to share this Tea Biz BLOG|CAST with your colleagues
---
View the Tea Biz Newsletter Archive
---
https://teabiz.sounder.fm/episode/news-01212021
---
Subtext
Avoid the chaos of social media and start a conversation that matters. Subtext's message-based platform lets you privately ask meaningful questions of the tea experts, academics and Tea Biz journalists reporting from the tea lands. You see their responses via SMS texts which are sent direct to your phone. Visit our website and subscribe to Subtext to instantly connect with the most connected people in tea.
Podcast Players
Download the Tea Biz Podcast weekly on your favorite player. To obtain a text-only version subscribe via RSS
Subscribe and receive Tea Biz weekly in your inbox.