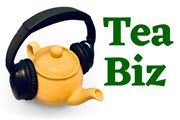 Hear the Headlines
| Sri Lanka Tea Yields Feared to Decline
| McLeod Russel Settlement Resolves Insolvency
| Bangladesh Tea Sector Returns to Pre-Pandemic Production Levels
India Tea Price Watch
The South India Tea Exporters Association, led by Chairman Dipak Shah, identified twin problems that have continued to be a significant challenge this year: one is the rising cost of ocean freight, and the second is the problem of pesticides in tea where the onus of testing for permissible residue levels lies with the producers. But the liability – should tea be rejected by the buyer – rests with the exporter. Learn more…. – Aravinda Anantharaman
Features
This week Tea Biz visits with Rare Tea Lady Henrietta Lovell whose passion for tea is exceeded only by her commitment to bettering the lives of those who make it.
… and then we travel to Banbury, UK to learn how the Tea History Collection is digitizing tea history one tome at a time.
Henrietta Leads the Way
By Kyle Whittington | TeaBookClub
Since founding the Rare Tea Co., in London in 2004 Henrietta Lovell has traveled the globe sourcing direct for the world's five-star dining rooms and developing relationships at the farm level where her commitment to fair pricing for the finest tea and charitable work set a standard. "If I can make people appreciate tea, it will change the world," she says. Rear more…
Listen to the Interview
Tea History Collection
By Dananjaya Silva | PMD Silva & Sons
The Tea History Collection in Banbury, UK, founded by Denys Shortt OBE has hosted a full calendar of events since opening in May. This tea industry resource is now undertaking the daunting task of digitizing bound volumes recording the trademark and ownership of colonial gardens from the early days of tea. Listen as Shortt discusses the importance of preserving tea company heritage online to be shared by all. Learn more…

Listen to the interview
News
Bangladesh Tea Rebounds
By Dan Bolton
The tea sector in Bangladesh is expected to return to near pre-pandemic production levels after setbacks in 2020. Like neighboring Assam, Bangladesh experienced a spring drought, high temperatures, aggressive pests, and the onslaught of the pandemic. Despite these challenges production through July is ahead of last year's totals and estimated to reach 86 million kilos. Read more…
Sri Lanka Tea Yields Feared to Decline
By Dan Bolton
Sri Lankan tea growers are experiencing the first effects of the country-wide ban on chemical fertilizers and plant protection chemicals (PPC).
After a productive spring, the fall harvest is predicted to decline beginning in October.
Herman Gunaratne, one of 46 experts picked by President Gotabaya Rajapaksa to guide the transition to organic-only inputs told Agency Press France (AFP) that "The ban has drawn the tea industry into complete disarray."
Gunaratne who manages the Ahangama Tea Estate, said "The consequences for the country are unimaginable." was removed from the Green Socio-Economy after disagreeing with the president, according to AFP.
President Gotabaya ordered a halt to inbound shipments of fertilizers used to cultivate food crops such as rice and cash crops including cinnamon and pepper. Growers are concerned that plants accustomed to a rich diet of nitrogen and phosphate will take time to adjust to organic compost and manure.
Tea is the nation's highest-earning export, generating $1.25 billion in foreign currency from the sale of 300 million kilos of tea annually. Sri Lanka harvested 187.8 million kilos through July. Mid-year crop yields were 20% ahead of the half-year mark set in 2020 but prices were higher on average last year.
Meanwhile, the fiscal crisis facing the country worsened as the Sri Lankan rupee depreciated 20% against the US dollar and British Pound. Food inflation is at 11.5% and long queues at food markets signal shortages. The government has invoked rules that fix prices and prohibit the hoarding of staples such as paddy, finished rice and sugar which briefly increased to SLRs 200 per kilo.
Sri Lanka's economy, heavily dependent on tourism, declined 3.6% in 2020 and foreign reserves are at record lows.
Biz Insight – During the next month Tea Biz will interview several key decision-makers, tea researchers, and non-government agricultural experts to discuss the pros and cons of switching Sri Lanka to organic-only cultivation.
McLeod Russel Settlement Resolves Insolvency
India's largest bulk tea producer has settled with creditors to resolve financial peril.
PP Gupta, managing director of Techno Electric & Engineering, agreed to terms for repayment of a delinquent INRs 100 crore ($14 million) loan by McLeod Russel India, saying "this is now behind us, and we wish the company good luck."
Techno triggered the insolvency on Aug. 6 by filing a formal application with the National Company Law Tribunal (NCLT) for redress.
McLeod borrowed the funds in 2018 and failed to make timely payments due to shortfalls in revenue from tea. The company sold several tea gardens to meet its obligations, but the sums were insufficient to satisfy creditors. McLeod currently owes its lenders approximately INRs 1800 crore (about $245 million). A resolution process, led by the Reserve Bank of India (RBI) will now proceed.
The company operates 31 tea estates in Assam and two in West Bengal, producing a combined 44 million kilos of Indian tea annually with additional holdings in Africa and Vietnam.
— Dan Bolton
Read more…

links indicate the article continues.

Learn more…

links to additional information from sources.
---
Upcoming Events
September 2021
Level Up, Virtual
September 29 | The Tea & Herbal Association of Canada will host a mid-year Meet-Up from 10 am to noon. Admission $55 (CAD) Members $50. Agenda | Register
Click to view more upcoming events.
---
Share this episode with your friends in tea.
---
---
https://teabiz.sounder.fm/episode/news-01212021
---
Subtext
Avoid the chaos of social media and start a conversation that matters. Subtext's message-based platform lets you privately ask meaningful questions of the tea experts, academics and Tea Biz journalists reporting from the tea lands. You see their responses via SMS texts which are sent direct to your phone. Visit our website and subscribe to Subtext to instantly connect with the most connected people in tea.
Subscribe and receive Tea Biz weekly in your inbox.